Watch A Granny Brutalize Your Favorite Mortal Kombat Fighter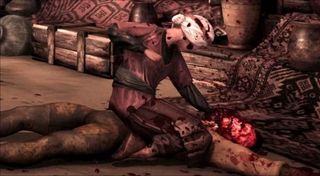 An oldie but a goodie. One of the stage interactions in Mortal Kombat X features the ability to throw an old lady at opponents and have her pummel them into a bloody pulp. The thing has made its way around the internet to a lot of raving and hilarity.
The NPC is named Blanche and you can see her in action below, courtesy of RajmanGamingHD [via GameSpot].
Originally Blanche was just a background object to be used to beat the daylights out of your opponent, but after NetherRealm Studios released an update for Mortal Kombat X, the old lady went from one-time use stage interaction to a brutality-causing pugilist.
The stage interaction is just one of many scattered throughout the various stages of Mortal Kombat X. Some are a little more creative than others, but few outrank the pure genius of having Blanche fly into the screen, tackle an opponent, ground-and-pound them and finally punch their head in for a Brutality finish.
Unfortunately no one used Blanche at this past year's EVO 2015 Championship Series. Instead, a lot of the competitors relied on skill, timing and reading their opponent's probable attack vectors. A few times through EVO there was the application of a stage interaction here and there, mostly to throw opponents off their game or force them to adapt quickly.
One of competitors, SonicFox, has been known to pull out all the stops during tournament play in order to take home the glory of winning and the cash prizes that come along with it.
Recently NetherRealm Studios added some new fighters to the mix, including Tanya and the Predator. Yes, the same Predator from the movie series of the same name. Surprisingly, Tanya was a featured fighter throughout the past couple of e-sports tournaments featuring Mortal Kombat X, but the Predator hasn't been on the roster long enough for anyone to get familiar with his ins and outs.
NetherRealm also just released Tremor for those who purchased the season pass. He's available right now if you have the pass, but for those who would prefer to wing it and get the DLC piecemeal, you can pick up the new character on July 28th.
A lot of fans have been hoping that characters like Spawn will make the cut after Jason Voorhees made an appearance as DLC. With the way the rights work, it's possible we could see Spawn in Mortal Kombat X, but nothing is set in stone. If NetherRealm Studios actually has plans to add him to the game I really hope he's accompanied by Ash Williams from the Evil Dead series. There really wouldn't be a better time than now to add both characters to the game.
As for Blanche, she's still there kicking and pummeling people into a pulp as a Brutality alternative. Mortal Kombat X is available right now for Xbox One, PS4 and PC. The Xbox 360 and PS3 renditions of the game are expected to launch this holiday season.
Your Daily Blend of Entertainment News
Staff Writer at CinemaBlend.