Xbox One Won't Be Getting Gears Of War Remakes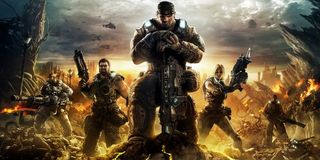 Xbox One owners hoping to play Gears of War on their console will need to wait for the next game in the series. Black Tusk Studios general manager Rod Fergusson confirmed on Twitter today that they're not planning any new-gen remakes of the first three Gears games.
The initial idea for a "Marcus Fenix Collection" was likely inspired by Halo: The Master Chief Collection, the bundle of four Halo remakes released on Xbox One this fall. However, the speculation ramped up once this image of Xbox boss Phil Spencer chatting on Xbox Live with an Xbox One owner hit Reddit yesterday. The player asked whether the older Gears games would be released on Xbox One and Spencer told him to "stay tuned":
Spencer's simply reply of "Stay tuned" was translated by the Internet into, "Microsoft's making a Marcus Fenix Collection and it's going to be 1080p and it's going to be released on my birthday!" I'm glad that Fergusson stepped in to kill the rumor so Gears wouldn't get their hopes up.
A Gears of War HD bundle would be a great idea, of course. It's arguably the second-biggest exclusive franchise for Xbox so a bundle of three (or four) Gears games with remastered graphics would sell a whole lot of copies. It would also reignite interest in the franchise before the brand-new Gears of War for Xbox One is released.
Who would make this "Marcus Fenix Collection," though? Microsoft bought the franchise from Epic Games so the original developers wouldn't be doing it. Black Tusk Studios, the new developer Microsoft set up to create Gears of War 4 (or whatever they're calling it), is presumably throwing all their energy into making that new game. Halo: The Master Chief Collection happened because Microsoft set up a company (343 Industries) that was large enough to develop Halo 5 and the remakes at the same time. Even then, 343 Industries needed the help of several studios including Certain Affinity and Ruffian Games to finish the Master Chief Collection.
Microsoft might be wary of relying on a cluster of studios to cobble together another HD bundle, though. Halo: The Master Chief Collection was a mess at launch and is still being fixed months later. While a Gears of War compilation might have serious sales potential, I'm not sure they'll commit to that project unless they're confident they can avoid the mistakes made with the Halo bundle.
We know next to nothing about the new Gears of War for Xbox One, save for the fact that it uses Unreal Engine 4 and it might bring back Cole Train. As Fergusson said on Twitter, we'll have to wait until E3 2015 to find out anything beyond that.
Staff Writer at CinemaBlend.
Your Daily Blend of Entertainment News
Thank you for signing up to CinemaBlend. You will receive a verification email shortly.
There was a problem. Please refresh the page and try again.