You Can Get This Sci-Fi RPG For Free On Steam Right Now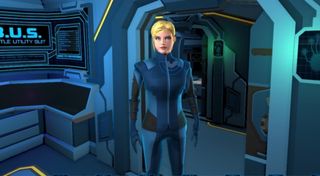 Interdimensional Games recently announced that you can get their sci-fi space simulator Consortium for free. It's only going to be available for free over the weekend but unlike other free weekends on Steam... you get to keep Consortium.
Game Informer did a write up on Consortium being free on Steam right now. You can grab a digital copy by logging into your Steam account, going to the Consortium store page and clicking on the big green "Install Game" button. The digital distribution service will inform you that the sci-fi RPG has been permanently added to your library and is available to download at your convenience. The game is free for the weekend in preparation for Interdimensional Games' upcoming Kickstarter for Consortium: The Tower, and the developers are using it as a way to put eyes on their new crowdfunding campaign.
So what is Consortium? Well, it's a sci-fi role-playing title that takes place on a futuristic spaceship. It's not unlike Star Trek. Players will have to learn about their crew, make diplomatic decisions that could lead to combat, as well as maintain the safety and functions of the ship while venturing throughout space. I've never heard of this game before today, but it's definitely an interesting title with a lot of depth to be an indie title.
A lot of gamers compare it to Star Trek as well in the user reviews since players are given a lot of choice both in terms of combat and diplomacy when it comes to dealing with potential hostile threats. For instance, when an alien race attempts to board your ship it's possible to be friendly with them and find a way to peaceful resolution or tell them to bring it on and start a fire fight in the middle of your vessel. You can get an idea of what Consortium is like and some of the role-playing, strategy and first-person shooter elements present in the game.
Oh and Consortium is also a murder mystery. Yes, while dealing with all of the other stuff happening in and around your ship, there is a murder that will need to be solved. One of the crew members is actually a killer and it's up to players to utilize various methods to find and subdue the killer.
What's fascinating is that the game has this robust dialogue and interaction system with multiple choices and lots of crew members, but it also has this first-person shooter element that reminds me a lot of the mixed genre gameplay featured in games like BioWare's Mass Effect series or Dragon Age.
Graphically, Consortium isn't anything too special but it does have its own visual charm. It almost appears to have a similar rendering style to the Star Wars: Clone Wars 3D cartoon.
Of course, if graphics really are the sort of thing that determines whether or not it's the kind of game you want to play then you might want to steer clear. If you don't mind the visuals but you're looking for an emergent game where the story changes, evolves and shapes around the decisions you make not unlike DayZ, Minecraft or S.T.A.L.K.E.R., then Consortium might not be a bad game to check out.
Staff Writer at CinemaBlend.
Your Daily Blend of Entertainment News
Thank you for signing up to CinemaBlend. You will receive a verification email shortly.
There was a problem. Please refresh the page and try again.