You Need To Watch This Catchy And Adult-Rated Music Video About Legend Of Zelda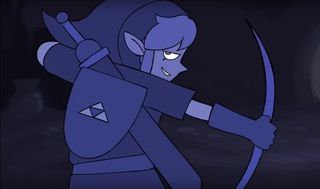 The Legend Of Zelda has been a favorite for many loyal Nintendo gamers, but it doesn't come without its mockeries and parodies. Check out the hilarious parody video below and see if you can catch the Legend Of Zelda references.
The YouTube user and animator, Egoraptor, has a number of hilarious parody videos that poke fun at games like Super Mario Bros., Street Fighter and more. Not only is the humor to die for, but that animations are on point and the references apparent in every song. Plus, the songs are catchier than ever.
Egoraptor dedicates his time to creating videos about video games. His YouTube channel has over two million subscribers and over 360 million views. His real name is Arin Hanson and he has created such web series as The Awesome Series and is the co-creator, writer and animator of Girlchan in Paradise. He's also voice acted for many games like Dragon Age: Inquisition and the popular TV show, Rick And Morty.
Starbomb takes the animations of Hanson and combines it with the raunchy and sexually suggestive melodies of Leigh Daniel "Danny Sexbang" Avidan and Brian "Ninja Brian" Wecht of the comedic duo, Ninja Sex Party. The first Starbomb album was released in 2013, and they later released a second album called Player Select in 2014 and went on to become Billboard's third best-selling comedy artist of 2014.
It may have something to do with my lack of background with Zelda, but when I first heard this song, I didn't get it. And then I kindly had a friend tell me what all of the references meant (like the old man) and suddenly it all made sense. But it was hard to not like the music video to begin with because it was so damn catchy. And this music video isn't the only one of Starbomb's videos like this. You should check out the one called Luigi's Ballad about Super Mario Bros. and how much of a jerk Mario is. Most of his videos are incredibly catchy and will have you humming them in your sleep.
If you'd like to watch more of Starbomb's videos, you can do so by heading over the the YouTube channel.
Your Daily Blend of Entertainment News