Your League Of Legends Ping Might Get A Lot Better Or Worse Soon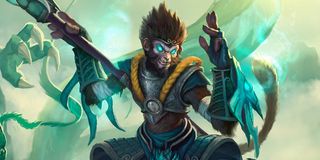 Riot Games will be moving the North American servers for League of Legends across the United States soon. This change could dramatically effect your playing experience.
In a post on LoL's forums, Riot revealed that they'll be moving the game servers from Portland, Oregon to Chicago potentially by the end of the month. It seems that the initial tests for the new location were successful:
Riot chose Chicago as the new home for their game servers because its solid infrastructure and centralized location. They feel the new location will enable them to bring every North American player's ping under 80ms. More than half of the LoL players in the region are currently above that mark.
The main beneficiaries of the server move are players on the East Coast. They should have a dramatically lower ping than they do now, making it easier to make Yasuo or Lee Sin highlight reels. The downside, though, is that West Coast players won't have the stellar latency they're used to. Here's Riot's overview of the move's effects:
Moderate latency increases (up to ~45 ms) in the Pacific Northwest and outlying regions (Hawaii, other Pacific Islands, Japan, etc)
Minor latency increases (up to ~30 ms) across the rest of the west coast of North America.
Generally neutral effects across a broad strip of the Mountain States and Saskatchewan
Moderate to major latency reductions (up to ~50 ms for much of the East Coast) across the entire eastern half of North America
The plan has obviously led to some grumbling from West Coast players. They've grown accustomed to a certain level of latency over the years so the move feels like a penalty for them. Some would rather Riot just split the region into East and West servers like World of Warcraft, PlanetSide 2 and other multiplayer games.
Still, Riot argues that overall performance will improve for all players thanks to the PoP hardware they've been setting up throughout North America. They're promising better stability and less packet loss thanks to this infrastructure.
The company is hoping that the server switch from Portland to Oregon will be seamless and result in zero downtime. The Portland servers will be kept as a backup in case anything goes wrong with the transition.
Once the Chicago servers are up and running, Riot will offer free transfers to players in the United States and Canada who are playing on other servers. For example, many players in Florida use the Latin America North server currently because they're based in Miami. Riot will send out emails with instructions on how to switch to the relocated North American server.
Staff Writer at CinemaBlend.
Your Daily Blend of Entertainment News
Thank you for signing up to CinemaBlend. You will receive a verification email shortly.
There was a problem. Please refresh the page and try again.