Zynga Acquires NaturalMotion While Laying Off 15% Of Workforce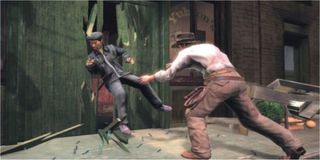 If you've been keeping a close eye on middleware, you may have noticed that one company was doing some pretty neat stuff throughout seventh gen to help cut development costs in key areas, such as behavioral AI and procedural animation. Well, the company behind amazing tools such as Morpheme and Euphoria is now under the handle of Zynga... the same company that gamers wanted EA to bury.
It was announced today that Zynga has acquired NaturalMotion for $527 million dollars. The acquisition comes with unsettling news, though, as Zynga is also reducing their workforce by 15%.
In a detailed article on GamesIndustry.biz, new CEO of Zynga and former front man of the Xbox brand, Don Mattrick, had this to say about their newly acquired asset...
Keep in mind that NaturalMotion's acquisition wasn't really for their middleware tools. While other game studios went to the software tools maker to license software for games like Red Dead Redemption, Grand Theft Auto IV, Grand Theft Auto V, Star Wars: The Force Unleashed and Max Payne 3, Zynga wants them for their mobile games.
That's right, Zynga acquired the studio consisting of 260 employees for their mobile games such as CSR Racing and Clumsy Ninja.
NaturalMotion was also behind the console release of Backbreaker, the football game that was designed pretty much as a showcase for the Euphoria engine and for their patented animation blending techniques and procedural adaptive motion physics.
Now, this doesn't mean that Zynga is only in it for the mobile department (although, that seems to be heavily implied), some hope that perhaps NaturalMotion's middleware won't go to waste simply for their mobile brands, but instead Zynga will continue to use the grade-A design tools to license out to other studios (without raising the price of licensing, of course).
The troubling part about it is that Mattrick seems in it to win it, and doesn't mind letting go of key staff to stay light and nimble, stating...
My goodness... we should start a Kickstarter for the headstone of NaturalMotion.
Hopefully it's not as bad as it looks and the middleware company will continue to operate and help elevate the interactive entertainment society as they have been doing for the past couple of years. Bah, who am I kidding? How much do you think that headstone will cost?
Staff Writer at CinemaBlend.
Your Daily Blend of Entertainment News
Thank you for signing up to CinemaBlend. You will receive a verification email shortly.
There was a problem. Please refresh the page and try again.