The Proud Family: Louder And Prouder EPs Discuss The Biggest BTS Lessons They Learned Ahead Of Disney+ Revival's Second Season
The Proud Family producers did their homework.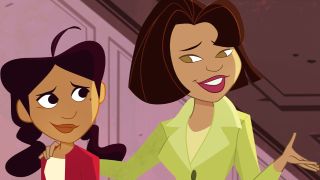 (Image credit: Disney+)
Those who grew up with Disney Channel's '00s-era programming slate were treated to some special TV shows that are still held in high regard today. American Dragon: Jake Long, Lilo & Stitch: The Series and Kim Possible (whose stars "can't get away" from its impact) are prime examples of beloved hits from the House of Mouse. Of course, another series that's managed to stand the test of time is The Proud Family, which was revived for Disney+ in 2022. The show, subtitled Louder and Prouder, excelled during its first season, as it built on its predecessor while adding some fresh elements to the canon. Despite that success, the EPs still learned some valuable behind-the-scenes lessons before starting work on Season 2.
The Proud Family: Louder and Prouder is helmed by co-creators Bruce W. Smith and Ralph Farquhar, who also birthed the OG show. The pair – who are both seasoned TV and animation veterans – have a firm creative grasp on the beloved universe they've created. However, even at this point, there's still room for them to master new skills and strategies. I had the pleasure of speaking with the clever executive producers about their creative process ahead of the second season's premiere. When asked about the most important lessons they picked up between Seasons 1 and 2, Smith pointed to their handling of the massive roster of characters:
Louder and Prouder has greatly expanded the cast by adding new characters like siblings Maya and KG Leibowitz-Jenkins and Kareem Abdul-Jabbar Brown, Penny Proud's new boyfriend. Additionally, characters from the original series, like Michael Collins, play more prominent roles in the revival. It was a smart creative decision on the producers' part as it allows for additional world-building, which effectively feeds into the storytelling. And as Bruce W. Smith noted, the show now has the freedom to craft more varied narratives around the Prouds and those in their orbit. (And of course, The Proud Family's wide array of celebrity guest stars is included in that equation.)
Effectively balancing one's characters and stories is a major lesson, but there's another important one the creators came across, which was brought up by Ralph Farquhar. Interestingly, this was something he and his collaborators learned before the sequel series was even greenlit. Farquhar explained that the creative team discovered a key factor in regard to viewership:
Speaking from personal experience (as one of those '00s kids), I had a number of friends who watched The Proud Family with their parents. Also, considering the popularity of the show, it's not surprising to hear that adults were watching it on their own. Some may even remember that the series was syndicated on BET for a time alongside other great Black sitcoms of the past 20 years. One can certainly appreciate that the producers made note of this lesson and more when crafting Louder and Prouder, which is on par with the parent show. And if the first season was any indication, Season 2 is definitely one of the shows you'll want to check out on Disney+ this February.
All episodes of The Proud Family: Louder and Prouder Season 2 (opens in new tab) are now streaming, so be sure to grab a Disney+ subscription to check them out. Also, do yourself a favor by looking over CinemaBlend's 2023 TV schedule for info on more small-screen offerings heading your way this year.
Your Daily Blend of Entertainment News
Covering superheroes, sci-fi, comedy, and almost anything else in film and TV. I eat more pizza than the Teenage Mutant Ninja Turtles.