10 Horror Movies That Are Popular Among TikTok Users, Ranked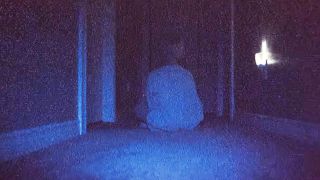 (Image credit: Shudder)
When it comes to horror movies, a lot of the time, I'll watch a new one based on word of mouth. I gave the Ari Aster horror movies a shot at first because I heard how scary they were. I watched all the Halloween films based on my mom's recommendation. I even checked out some goofy horror comedies because my friends told me to try them. Many horror movies I've come to love were brought to my attention with recommendations.
In 2020 I discovered a new way of getting these suggestions: TikTok. Of course I found myself on the horror side at one point, and I have now been led to some fun movies – and others that aren't so much fun. Here are ten horror movies I have to talk about – ranked from worst to best.
10. Skinamarink (2022)
No. Just no.
Skinamarink is what is classified as a Canadian experimental horror film that primarily follows two children who are left at home alone, and that's really all you know. At first, you may think this is a good premise to follow, but the movie is so boring.
I get who this movie is trying to go for – most of the shots are weird sounds and long shots of dark spaces. It's supposed to appeal to those scared of the unknown and what could emerge from the dark. But Skinamarink is the slowest, non-horror filled horror movie. Even when there were jumpscares, they did not feel earned. You could tell from a mile away that they were coming.
I get why some people might think this is a revolutionary film, but it's not for me.
9. Megan Is Missing (2011)
Megan is Missing came out when found footage horror movies were starting to get popular again (during the Paranormal Activity era), and the film itself got quite popular on TikTok in 2020. But I have to say, there's nothing really surprising about it in any way.
The main premise is about a teenager who meets a boy online and decides to meet with him, and ends up going missing, hence the title. We are given several interesting scenes that are supposed to terrify, and to other viewers, sure, they could be scary. But for someone who is so used to found-footage horror movies, this movie did nothing for me.
8. Jennifer's Body (2009)
Okay, hear me out – I freaking love this movie. Jennifer's Body was one of my favorite movies when I was just getting into horror, whether it be because it was a little campy, or Megan Fox's performance, or even Amanda Seyfried. But I don't think it deserves to be considered horror.
5 Reasons To Revisit Megan Fox In Jennifer's Body This Halloween Season
If you need a reason to check out Jennifer's Body, here are five for you.
The movie started to make the rounds again on TikTok in 2020/2021. The film follows the title character, Jennifer, who gets possessed by a man-eating demon after she is sacrificed by her favorite band in the woods. The film itself is so much fun and I would recommend it to anyone who hasn't seen it, but certainly not the best horror film that TikTok has put on my For You page. It's more funny than scary.
7. Hush (2016)
Mike Flanagan has become a master of horror with some of his most recent films and TV shows, and this movie furthers that. Hush, starring Kate Siegel, tells the story of a deaf woman who has to survive a home invasion.
This movie isn't gory in any way, but what makes it better than the others is that it's so creative. I mean, think about it – we always think that we'd survive any horror movie like the Scream franchise because we have all five of our senses, but just imagine if you had to survive a home invasion while deaf.
That's terrifying – but Flanagan takes it a step further and really integrates the viewer into the experience because you feel as if you're the one being chased. The sound design is great.
6. Tusk (2014)
This is a weird-ass movie. But I like it.
Tusk is a horror comedy directed by Kevin Smith and starring Justin Long about a podcaster who ends up getting more than he bargained for while conducting an interview with a retired sailor who is creepier than he seems. This A24 horror movie is strange as heck, but it works in a weird way.
I have to say that I do like it much more than many of the other horror movies before this. It doesn't try too hard to be scary, and really embraces its hilarious aspects. It almost reminds me of M3GAN – it knows exactly what it is and isn't trying to fool you. It's just so weird.
5. The Poughkeepsie Tapes (2007)
Another documentary-style horror movie, The Poughkeepsie Tapes also got popular around 2020/2021, and is about the fictional murders of a serial killer in Poughkeepsie, New York, which features "interviews, footage," and material that is obtained from the serial killer – basically, his snuff films.
While I would also categorize this movie as a found-footage horror movie, The Poughkeepsie Tapes actually feels quite scary. There are several gory moments that made me turn away from my screen, and others that had me quite interested. It's not the best found-footage movie, but interesting enough.
4. Excision (2012)
Moving onto another horror film, Excision came out in 2012 and boy, this movie is something different. It's about a young girl who has dreams of working in the medical field, but she isn't quite right mentally and has a weird fascination with blood – so much so that she'll do anything to get it.
This is one of those movies that I literally could not look away from, and I was upset when it ended. The performances were great, and it really makes you squirm in your seat. Plus, you can see a young Ariel Winter literally acting her butt off in a horror movie. I can't recommend this one enough.
3. Begotten (1989)
That's right, we're going all the way back to the 1980s. Shot entirely in black and white, Begotten takes its story from several creation myths, focusing mainly on Mother Earth and the Son of Earth, who set out on a journey.
This movie messes with your head, man. Where Skinamarink was an experimental horror film, Begotten is just on another level of experimental. You have no idea what the heck is going on and yet, you're scared out of your mind. It's creepy in all the right places and features some pretty gory sequences. Definitely a good pick.
2. Antrum (2018)
This movie literally comes with a warning before it, saying you could be cursed watching it. Come on. 2020 was a year for horror movies – and it was easy to stream.
This both a mockumentary and a horror film, focusing on the story of the actual film, Antrum, and the horrible things it has done to people, and then cuts to the film so it can be shown to the audience. The plot follows a pair of siblings and their journey in the woods. It's full of eerie imagery and has plenty of horrible trials for the siblings, such as running into cannibals and demons.
1. A Serbian Film (2010)
Yeah…this film.
I discovered A Serbian Film (classified as an exploitation horror) in early 2022. The main premise follows a financially struggling pornstar who decides to work in an art film, only to find out later on that it's a snuff film – and he's going to be the star.
This movie…is disturbing. It's been banned in several countries, and features heavy, heavy graphic violence. This was one of the first films in a while where, when it finished, I had to sit back and ask myself, "what the f*** did I just watch?" I felt dirty after watching it, disgusted almost. This is one of those movies where you certainly will never take your eyes away from the screen – but once it's done, you never touch it again, which is why it's number one on here.
TikTok is great for many things, but horror movie recommendations? Kind of a 50/50 split on that. Either way, you might have found a new favorite film here. Or, maybe I gave you a million reasons not to watch certain movies. Whatever the case, have fun binging.
Your Daily Blend of Entertainment News
Big nerd and lover of Game of Thrones/A Song of Ice and Fire. Will forever hate season eight. Superhero and horror geek. And please don't debate me on The Last of Us 2, it was amazing!