Skinamarink: Why The Experimental Film Is A Game-Changer For Indie Horror Movies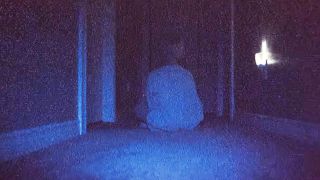 (Image credit: Shudder)
When I went to see the low-budget Canadian horror movie, Skinamarink, during its limited theatrical run in January, my wife turned to me as the lights came on and asked me to explain everything that happened in the second half. At first, I assumed the film's unconventional narrative and surreal imagery left her confused, which I honestly would have understood. It turns out that she was so scared, she opted to keep her eyes closed for the rest of it.
That is precisely the moment when I became convinced that this movie — which will be available to stream with a Shudder subscription on Thursday, February 2nd — was one of the most original, chilling, and simply best horror movies I have seen recently, and that it could very likely be remembered as a classic of the genre (especially among indie horror) for years to come. However, given how many people likely disagree with me based on its mixed reception (more on that later), I feel I should probably go into greater detail about why this strange flick both satisfied and perturbed me on a deep level with a spoiler-free breakdown.
Skinamarink Is A Child's Nightmare Brought To Life
Kyle Edward Ball, the writer and director of Skinamarink, first made made a name for himself with the YouTube channel Bitesized Nightmares, for which he would recreate bad dreams that users described in the comments section into scary, minutes-long films. This movie appears to be his first attempt at turning that unique style into a full-length feature.
The plot — which is somewhat similar to his 28-minute 2020 short, Heck — follows a young boy named Kevin (Lucas Paul) and his slightly older sister, Kaylee (Dali Rose Tetrault), who wake up in the middle of the night to find their mother (Jaime Hill) acting strangely and that their father (Ross Paul) has disappeared, as have all doors and windows that lead to the outside of the house. People have come up with various interpretations as to what is truly taking place, but the most important thing to make note of is how authentically the film captures the look and feel of a nightmare, especially from a kid's perspective, with its surreal imagery and hazy, dream-like atmosphere. The secret lies mostly in where the camera is pointed.
Its Cinematography Is Astonishingly Unique
Some people, and even established websites like Bloody-Disgusting, have mistaken Skinamarink for a found footage movie — an assumption that, just by watching the official trailer, would be understandably easy to make. However, while the film may at times resemble documentary-style haunted house movie classics like Paranormal Activity or Grave Encounters, it is because a lot of the action is seen directly through the eyes of its young characters for an especially immersive, and all the more horrifying, experience.
The rest of the movie — which was shot by first-time cinematographer Jamie McRae in a grainy, VHS-style that reflects its 1995 setting — is mostly stagnant, low angle shots of various areas of the house that rarely give us a clear image of what exactly is happening or even what the characters look like. This otherwise inventive style of cinematography can, admittedly, be a little off-putting at times, but it also lends itself extremely well to its discomforting atmosphere which is created by, literally, leaving the audience in the dark.
The Film Is Less About What You See, More About What You Don't
As I established, Skinamarink is not a found footage movie, but one film I often find myself comparing it to is one of the most acclaimed found footage thrillers of all time, The Blair Witch Project. What made that surprise indie horror hit from 1999 so memorably frightening — other than its killer viral marketing campaign — is the fact that it never actually shows you what the three lost documentarians are afraid of, putting the audience in its own a state of constant, suffocating mystery.
The new film is one of my favorite examples of this horror storytelling method since the original Blair Witch, because the scariest scenes are almost completely shrouded in darkness, forcing you to question what could be hiding in the shadows staring back at you. However, when it does pull away the veil to fully reveal something bizarre and freaky…well, let's just say there were times I envied my wife and her shielded eyes.
It Builds Tension Masterfully
One of the most common complaints about modern horror movies is an over-reliance on jump scares or even the use of them in general, as their effectiveness has waned greatly over the year. However, I found the few uses of jump scares in Skinamarink to be very effective, particularly because of how little expectation I had for them and because the moments leading up to them already had me in an unrelenting chokehold of uneasiness.
As far as I am concerned, Ball has absolutely mastered the art of building tension in a horror movie by using all the methods I mentioned above — including the first-person cinematography and long, quiet shots of heavily shadowed areas. I realize that not everyone is a fan of slow-burn horror movies like The Witch or 2016's The Invitation, but I am, and this is one of the most essential and satisfyingly creepy examples of such I have seen yet.
Reactions Have Been Mixed So Far
As someone who is a fan of slower-paced, non-conventional, and just downright weird movies, I have come to accept the fact that my taste often tends to differ greatly from most of the horror community. Before even seeing it, I had a feeling that Skinamarink might become the latest example of this and I turned out to be right because — while its Rotten Tomatoes score is a fresh 74% — it has had a polarizing effect on general audiences, as an article by Polygon recently pointed out. Honestly, I could not be happier by this news.
It may sound strange of me to say this as a clear fan, but I think its divisive reception will lend itself greatly to its legacy. When horror movies, especially, are met with such a reaction, it often inspires more attention from curious viewers and provokes ongoing discussion — similar to how one of my favorite A24 horror movies, Hereditary, or the "dark horse" of the Halloween movies, Halloween III: Season of the Witch, were initially received. In other words, I believe Skinamarink is a cult classic in the making, and the fact that so many horror fans are talking about it, regardless of their opinion, will help it earn that distinction.
Despite its haters, according to Box Office Mojo, Skinamarink made $895,280 — nearly 60 times is $15,000 budget — after just one week in theaters, which, I believe, means we can officially call it a hit. Perhaps we will soon be able to also call it one of the most popular and scariest movies on Shudder when a new wave of fans are able to discover it on streaming. In fact, I wonder if watching it in your own home with the lights shut off and, if possible, the doors and windows gone would make it even scarier.
Your Daily Blend of Entertainment News
Jason has been writing since he was able to pick up a washable marker, with which he wrote his debut illustrated children's story, later transitioning to a short-lived comic book series and (very) amateur filmmaking before finally settling on pursuing a career in writing about movies in lieu of making them. Look for his name in just about any article related to Batman.