Ben Affleck Finally Calls Out All Those Memes Of His Unhappy Face: 'That's How God Made Me!'
The Good Will Hunting star is a good sport.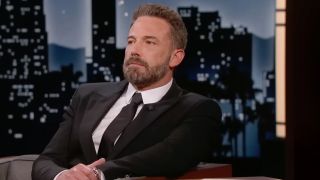 (Image credit: ABC)
Ben Affleck is no stranger to the internet meme culture. Over the years, social media has been abuzz with countless memes featuring the actor's unhappy face. However, The Justice League alum finally addressed the elephant in the room: his unhappy-looking resting face. Over the years legions of memes featuring the actor's gloomy mug have circulated online, but now the Academy Award winner is setting the record straight: that's just the way he looks.
The 50-year-old actor recently appeared on an episode of Jimmy Kimmel Live! to promote his upcoming biographical sports drama, Air. Still, things got pretty comical when the host jokingly thanked the Hollywood A-lister for inviting him and his wife Molly to Affleck's Christmas party, but mentioned how the actor didn't seem as "psyched as everyone else" at said gathering. The actor laughed along and bantered with the late-night host saying there is a common misconception about his now infamous scowl. He explained that his naturally gloomy facial expressions are not an indicator of his genuine inner emotions, but just how his face is structured, and if you're going to blame anyone, it should be the big man upstairs. He then hilariously demonstrated how similar his content and amused faces are. Affleck said:
The memes featuring Affleck's unhappy face are bountiful if one is willing to do a quick internet search, but perhaps the most famous one dates back to a 2016 interview with MTV. While his co-star Henry Cavill discusses their then upcoming superhero movie Batman v Superman: Dawn of Justice, Affleck stares forlornly off into the distance. The moment became a viral sensation and launched countless memes.
It's probably a good thing Affleck takes all the memes in good stride because once the internet latches on to a joke that works, it doesn't often easily let go of it. Most recently, the actor's grumpy man expressions got the viral treatment when he attended The Grammys with his wife, Jennifer Lopez. While the pair both spoke out about the night, saying Ben was just tired, that didn't stop social media from making Affleck's seemingly sour evening one of the main focuses of social media talk.
Regardless of the memes, it's pretty clear Affleck is still deeply passionate about his craft and has no intention of slowing down anytime soon. The star has a few upcoming 2023 new movie releases cinema fans can get excited about. Air (what we know about the flick) which Affleck directed and stars in, tells the true origin story of one of the most iconic basketball shoes, Nike's Air Jordans, and is set to release on April 5.
The Last Duel actor's face might make it appear like he is not often pleased, but the performer has many upcoming movies he and movie fans should be very excited about. Affleck has a forthcoming collaboration with El Mariachi director Robert Rodriguez, titled Hypnotic, which is set to hit theaters in May. Though brief, Ben's final performance as his take on the Caped Crusader is coming in the upcoming The Flash Movie, which speeds into cinemas on June 16, 2023.
Your Daily Blend of Entertainment News
Ryan graduated from Missouri State University with a BA in English/Creative Writing.