Now, Ben Affleck's Long-Delayed Movie Is Involved In A Lawsuit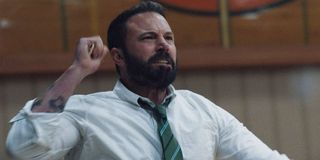 Just when it seemed like Ben Affleck was about to get to work on his next big screen project, there's been a bit of a snafu in the form of a lawsuit. In fact news broke this week that Ben Affleck's upcoming flick Hypnotic with Robert Rodriguez is dealing with a lawsuit directly related to its COVID-19 delays.
The disagreement is related to insurance on Hypnotic. When the pandemic got underway, the Ben Affleck starrer had been expected to film in Los Angeles. However, as it became clear Los Angeles could not support COVID-19 testing for the massive production, first the film looked to Texas and then as rates went up there, it looked to Canada in order to film. As all of that was happening, Hypnotic was being insured by the Chubb National Insurance Company.
Well, those delays took months. Now, Hypnotic is actually set to work its way back into production, Chubb National Insurance Company alleges that the company does not have to extend the insurance coverage. The company is happy to give the film a new coverage policy, per a report obtained by THR, but apparently wants to add in a COVID-19 exclusion policy before moving forward.
Hypnotic's production Hoosegow Productions is suing, stating that Chubb National Insurance Company didn't do its due diligence when the production tried to extend over a period of two months. In addition, the company believes that the long-standing policy with the company is that when films are delayed the company would typically be extended until a film is completed. The lawsuit alleges Chubb National Insurance company noted this in writing, mentioning,
The policy was expected to expire on October 28, 2020, which would have given the movie plenty of time had it made its original April filming date, though the suit also alleges the Hypnotic team initially suggested a 2021 date on the policy and were told they could re-up as needed, per the lawsuit. Then the novel coronavirus hit and the movie has been in limbo much longer than initially anticipated. Meanwhile, the October 28 date is now coming up.
In fact, as recently as August 24, the production was reportedly just starting to look at venues in and around Vancouver, British Columbia. Without insurance, the movie wouldn't be able to back the production and its major assets Ben Affleck and Robert Rodriguez, so it's unclear if this lawsuit will delay Affleck's next movie even longer.
The year 2020 has obviously been unprecedented for a whole bunch of reasons, including longer-than-expected movie delays. Some movies have been able to work out deals and figure out issues in order to and get the ball moving again in regards to filming. Others are still waiting in limbo to move forward, either due to filming location issues, Covid-testing issues or other issues more along the same lines Hypnotic is dealing with right now. In one very specific case, The Batman returned to filming, only to allegedly see its lead get sick with the virus, so the potential for COVID-19 to be an issue on set is there.
Ben Affleck has a whole bunch of projects lined up, and we'll have to see now which one ends up getting off of the ground first. At least he may be able to spend more time with his new partner Ana de Armas in the meantime.
Amazing Race & Top Chef superfan with a pinch of Disney fairy dust thrown in. If you've created a rom-com I've probably watched it.
Your Daily Blend of Entertainment News
Thank you for signing up to CinemaBlend. You will receive a verification email shortly.
There was a problem. Please refresh the page and try again.