Bette Midler Shared Hilarious Reason Why She Turned Down the Original Sister Act
Bette Midler was not wearing that habit!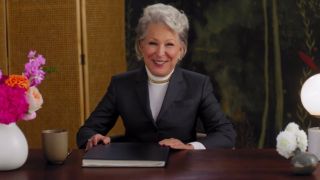 (Image credit: Vogue)
Bette Midler is an entertainment force who wowed audiences for over four decades, with her best movies including The Rose, Hocus Pocus, Beaches, and more. But can you believe one of those movies could have been Sister Act? This singer/actress revealed the hilarious reason why she turned down the chance to star in Sister Act.
This Tony Award winner is not one to miss the opportunity to wear eye-piercing costumes. She's been a witch, a mermaid, a stripper, a young lady, an old lady, a bad lounge singer and a showgirl, to name a few roles. Well, she could have played another type of showgirl in Sister Act as Deloris Van Cartier, but she told Variety's "Just for Variety" podcast why she turned this singing nun role with the following:
Yes, that is amazing. Now I'm mentally adding Bette Midler's face onto a nun's to picture what she would look like. Yep, I can imagine her rocking that look just like Whoopi Goldberg did, and Midler agrees that Goldberg "wore [that habit] all the way to the bank." That she did. Another movie that The First Wives Club actress could have been well known for that she turned down was Misery, which is one of Kathy Bates' best movies. She felt the role of an obsessed fan was too violent for her, with no funny bits to peak her interest. This proves that not all roles resonate with everyone the way they do with others.
Bette Midler may not have shown off her singing chops in Sister Act, but she still got to star in a couple of movies with one of the musical film's supporting actresses. Kathy Najimy and Midler played sisters in Hocus Pocus 29 years ago and reunited again last year for the long-awaited sequel. It was a breath of fresh air to see these iconic actresses stand side-by-side again in those memorable witchcraft garbs and sinister cackling. Even getting to see them react to Hocus Pocus 2's trailer gave wholesome, nostalgic vibes. These two may have missed out on singing in a choir together, but they instead got to "Put a Spell On You" in the most magical way for the Hocus Pocus films.
A third Sister Act is officially coming to Disney+, but the jury is still out on who else, besides Whoopi Goldberg, will be gracing us with their presence the third time around. Kathy Najimy has expressed interest in wanting to return back to the habit. If she sadly doesn't reprise her role as Mary Patrick, Goldberg thanked Najimy's Hocus Pocus sequel for getting Sister Act 3 off the ground. After all, it seems like so many well-known '90s films are coming back today to reach a new generation of audiences. Something tells me based on what happened around the first movie, Disney most likely won't be asking Bette Midler if she'd like to take on the role of a nun for the upcoming Disney movie.
Since it's been 30 years since Bette Midler was first approached about playing a nun, I wonder if she'd be open to wearing a habit this time around. If she were to play one of the singing nuns in Sister Act 3, you better believe it'd be a party! You can watch the Sister Act movies, as well as the Hocus Pocus movies, with your Disney+ subscription.
Your Daily Blend of Entertainment News
Just your average South Floridian cinephile who believes the pen is mightier than the sword.