Scream VI Kills At The Box Office With A Franchise-Best Opening Weekend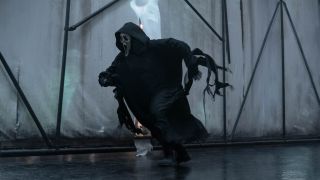 (Image credit: Paramount Pictures)
Back in 2011, it looked like the Scream franchise was as dead as one of Ghostface's hacked up victims. When Wes Craven's Scream 4 hit theaters, it not only had to settle for second place at the box office, but it only made $8.2 million. It was considered a flop, and it led to a massive pivot for the franchise with the launch of MTV's Scream: The TV Series. Twelve years later, Scream is arguably now hotter than its ever been on the big screen, as Matt Bettinelli-Olpin and Tyler Gillett's Scream VI has set a new opening weekend record for the satirical slasher series.
Check out the early rundown of this weekend's Top 10 below, and join me after for analysis.
Swipe to scroll horizontally
| TITLE | WEEKEND GROSS | DOMESTIC GROSS | LW | THTRS |
| --- | --- | --- | --- | --- |
| 1. Scream VI* | $44,500,000 | $44,500,000 | N/A | 3,675 |
| 2. Creed III | $27,173,000 | $101,358,274 | 1 | 4,007 |
| 3. 65* | $12,300,000 | $12,300,000 | N/A | 3,405 |
| 4. Ant-Man And The Wasp: Quantumania | $7,000,000 | $197,978,428 | 2 | 3,105 |
| 5. Cocaine Bear | $6,200,000 | $51,660,445 | 3 | 3,204 |
| 6. Jesus Revolution | $5,175,000 | $39,453,451 | 5 | 2,575 |
| 7. Champions* | $5,150,000 | $5,150,000 | N/A | 3,030 |
| 8. Avatar: The Way Of Water | $2,700,000 | $674,697,185 | 6 | 1,675 |
| 9. Puss In Boots: The Last Wish | $1,650,000 | $179,626,905 | 8 | 1,816 |
| 10. Operation Fortune: Ruse De Guerre | $1,280,000 | $5,562,863 | 7 | 2,168 |
Scream VI Is The Newly Crowned Box Office King, Earning More In Its Opening Weekend Than Any Previous Scream Movie Has
When Scream was given the requel/legacyquel treatment last year with Matt Bettinelli-Olpin and Tyler Gillett's Scream, the results in theaters were encouraging enough for Spyglass Media Group to almost immediately give the green light to a sequel. Released in January 2022, The results were definitely front-loaded, but the hit horror release made $30 million in its first three days domestically, and it went on to make $137.7 million worldwide by the end of its theatrical run. Those earnings only made it the fourth most successful title in the franchise (per The Numbers), but it was very successful in whetting the appetites of mass audiences for more Scream, and that's demonstrated in the opening weekend win for Scream VI.
Continuing horror's current hot streak in theaters right now, Scream VI managed to make an estimated $44.5 million over the last three days, which is huge for many reasons. For starters (and admittedly not accounting for inflation), the opening weekend numbers are far and away the best for the series – the movie having made about $10 million more than what Wes Craven's Scream 3 made back in February 2000.
Its ticket sales numbers are also notably higher than what estimates said they would be. Reporting from last month suggested that Scream VI would make about $35 million in its opening weekend, and prognostication remained similarly conservative last week (Deadline reported expectations for a $35-40 million start). The film successfully eclipsing those expectations is a terrific thing for the health of the industry.
According to Variety, Scream VI was made with a production budget of $35 million, and while that number doesn't include publicity and marketing costs, the slasher blockbuster is now well on its way to being profitable (it certainly seems safe to expect an announcement for Scream 7 before the end of the week). That strong start is important, if not only because there is some standout competition set for release in the coming weeks, with David F. Sandberg's Shazam! Fury Of The Gods starring Zachary Levi arriving in theaters on Friday, and Chad Stahelski's John Wick: Chapter 4 set to start playing on the big screen on January 24. Both of those movies are aiming at some of the same demographics as the horror sequel, so it's likely that we'll see some significant second and third weekend drop-offs.
Scream VI has been very buzzy, earning mostly positive reviews (CinemaBlend's own Corey Chichizola gave it a 4.5/5, calling it a "game changer" for the franchise), but it's also another broader box office victory for scary movies. As far as ticket sales go, no genre has been more consistent of late as horror. Hollywood began understanding this in a big way last fall when Zach Cregger's Barbarian, Parker Finn's Smile, and Damian Leone's Terrifier 2 all became significant success stories, and the wins have kept coming in 2023 with the exciting releases of Gerard Johnstone's M3GAN and M. Night Shyamalan's Knock At The Cabin.
There is an exciting precedent set that only makes us more excited for the roster of upcoming horror movies, including Lee Cronin's Evil Dead Rise, Chris McKay's Renfield, and Rob Savage's The Boogeyman.
Despite Scream VI's Success, Creed III Holds On Strong With A Solid Second Weekend At The Box Office
It's often the case that one movie's success is another movie's downfall at the box office due to the fact that both titles may be targeting similar audiences, but thankfully that's not the case this weekend. Scream VI may have had a phenomenal opening weekend, but thankfully that development has thankfully not derailed Michael B. Jordan's Creed III. The boxing film kicked off March with a bang last week, setting a new record for the Rocky franchise by making a stunning $58.4 million in its first three days, and it has followed up that spectacular start with a solid 53 percent weekend-to-weekend drop.
Making $27.2 million since Friday, Creed III has now already eclipsed $100 million at the domestic box office (specifically its made $101.4 million in the United States and Canada thus far). Worldwide, the film has made $179.4 million, which means that it has already outgrossed Ryan Coogler's Creed from 2015, and it only needs to make
about $35 million more to surpass Steven Caple Jr.'s Creed II. Seeing this, it's hardly surprising that Michael B. Jordan has some big plans to expand the franchise.
65 And Champions Fail To Make Much Noise Opening Opposite Scream VI
With the vast majority of eyes being on massive studio sequels in theaters this week, there wasn't much attention left available to take a look at this past weekend's other two new wide releases: Scott Beck and Bryan Woods' 65 starring Adam Driver and Bobby Farrelly's Champions starring Woody Harrelson. Both movies were showing in over 3,000 locations starting this past Friday, but neither managed to make much of an impression at the box office.
65 performed the best of the two, but it had to settle for third place with a $12.3 million haul. Making eight figures could be seen as a victory in its own right, especially given the negative reviews and the fact that it was repeatedly pushed around the release schedule, but this is also a film that cost $45 million to produce (according to Variety), and it's not really the kind of title that lingers around in the Top 10 for a long time.
Champions certainly cost a lot less to produce than the movie featuring Adam Driver as an extraterrestrial battling dinosaurs, but it also did significantly worse in its opening weekend. The film managed to only make $5.2 million in its first Friday-to-Sunday, which equates to a rough $1,700 per theater average.
Looking ahead, next weekend should produce some interesting box office results as Scream VI and Creed III will be facing off against the second big comic book movie of the year: Shazam! Fury Of The Gods. Head back here to CinemaBlend next Sunday to see what kind of shakeup the Top 10 gets, and check out our 2023 Movie Release Calendar to learn about all of the titles set to be released in the coming weeks and months.
Your Daily Blend of Entertainment News
Assistant Managing Editor
NJ native who calls LA home and lives in a Dreamatorium. A decade-plus CinemaBlend veteran who is endlessly enthusiastic about the career he's dreamt of since seventh grade.