Chris Hemsworth Is The God Of Thunder, But His Son Perfectly Channeled Hawkeye With A Bow And Arrow Trick
Marvel should keep an eye on a different Hemsworth casting, at least if he retains his bow and arrow skills.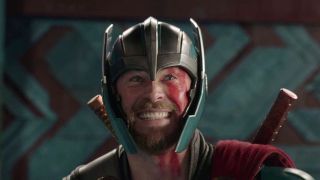 (Image credit: Marvel Studios)
Everyone loves a good superhero moment, and it looks like Chris Hemsworth's son is blowing up his dad's spot with his own super skills. However, he has his eye on a completely different superhero to emulate. Instead of wielding Thor's trusted hammer Mjolnir, one of Hemsworth's 7-year-old look-alikes is showing off some serious Hawkeye-level skill with a bow and arrow trick.
Watch out Jeremy Renner, one of Chris Hemsworth's twins is coming for your job! Well, maybe in a decade or two. In Hemsworth's recent Twitter post, he posted a throwback video that shows his son shooting an arrow at his head, knocking off a perfectly balanced water bottle in a pretty impressive shot. You can check out the clip of the father-son bonding moment below, along with the Thor: Love and Thunder star's caption, dripping with humorous pride:
1 year ago, I took 52 shots to the back of the head for the perfect shot. Love being a dad! pic.twitter.com/Su6SUceuolDecember 21, 2022
Apparently, the impressive shot didn't come without a bunch of other less impressive ones, with the Thor star probably getting rocked in the back of the head with arrow after arrow. Looking back to the actor's OG Instagram post from last year, he mentioned that it took a bit of time for his son to nail the shot. Practice makes perfect, though, and it certainly looks like the kid is getting good enough to rival the skills of the Avengers' famed archer.
The irony that Chris Hemsworth is semi-synonymous with the God of Thunder at this point, having played Thor in the MCU over a decade now, and his son is showing talents that line up with a completely different Marvel hero has certainly not been lost on fans. The comment section of Hemsworth's post is full of references to Jeremy Renner's bow-wielding Avenger.
There are a ton of comments giving props to the young archer, saying he's the real Hawkeye. One commenter even joked that Jeremy Renner will probably be filled with pride after watching the clip. I mean, Kate Bishop now appears to be the main archer of the MCU, but any chance we can get the young Hemsworth in there somehow as well?
A lot of people are caught up in the comparisons, but I honestly can't get over Chris Hemsworth's laugh at the end of the clip. Both Hemsworth and his son are clearly stoked that the shot hit its mark, but the laugh that comes out of the actor's mouth is truly worthy of becoming a TikTok sound.
There may be plenty of time for the young man to prepare to become the MCU's next archer or even become his own superhero. Of course, what fans are probably more concerned with now is when they might see Chris Hemsworth again as Thor Odinson following Thor: Love and Thunder. The actor has spoken out on the matter but, if it happens, Hemsworth believes a certain change needs to be made. I'll be watching for updates on that, as well as his son's archery endeavors, with great interest.
You can check out all of the Thor films or just watch the Marvel movies in order by grabbing a Disney+ subscription though, if you're more anxious to catch up with Clint Barton, you can stream Hawkeye with the same membership.
Your Daily Blend of Entertainment News
Constantly thinking about books, coffee, and the existential dread I feel from Bo Burnham's Inside. While writing I'm also raising a chaotic toddler, who may or may not have picked up personality traits from watching one too many episodes of Trailer Park Boys.
Your Daily Blend of Entertainment News
Thank you for signing up to CinemaBlend. You will receive a verification email shortly.
There was a problem. Please refresh the page and try again.