Fast X's Vin Diesel Teases The Franchise Saying Goodbye To Paul Walker's Brian
He also teases how the Fast saga may wrap up.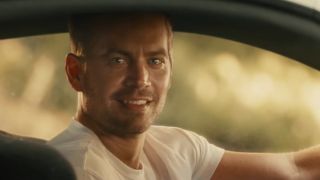 (Image credit: Universal)
The Fast and Furious franchise has been one of the most popular and enduring action movie series in recent memory, and it all began with the iconic pairing of Vin Diesel's Dominic Toretto and Paul Walker's Brian O'Conner. The first flick seems quaint compared to where the franchise is now, but it all started with the release of the 2001's street racing movie, which had a pretty obvious take on the Point Break formula, albeit trading in surfboards for high-performance street racing cars. What followed was a series of movies, each bigger than the last, and a franchise that has become a box-office juggernaut. Sadly, the series lost one of its pioneers when Paul Walker passed away tragically in a car accident in 2013 before the filming of Furious 7 was completed, leaving the series and its fans with a massive hole in their hearts. Through computer magic and the help of Walker's brothers, the filmmakers completed the movie, and audiences were treated to one of the most beautifully meta movie moments, Brian driving off into the sunset, happily ever after. However, according to one cast member, we probably haven't seen the last of Brian. That's right, Vin Diesel teased the franchise saying goodbye to Paul walker and Brian one last time.
In a recent interview with Total Film, Vin Diesel, who also serves as a producer on the franchise, teased the upcoming addition to the main story series of movies, Fast X, and hinted at the franchise's bigger plans for saying goodbye to the character of Brian O'Conner.
Diesel's comments will surely excite some fans of the franchise, but they may also leave some who appreciated Brian's happy ending scratching their heads. The Fast and Furious movies have always been known for their over-the-top action and high-octane thrills, but they've also had a deep emotional core that has resonated with audiences around the world, and it worries me to think how bringing Brian back for one last ride could cheapen the emotional catharsis of his goodbye moment in Furious 7.
The death of Paul Walker was a tragic blow to both the franchise and its fans, but the filmmakers have done an admirable job of honoring his memory and continuing his character's legacy. Since Walker's untimely death, the franchise has been forced to evolve and expand, introducing new characters and storylines while staying true to its roots. Fast 9, which was released in 2021 after a pandemic-related delay, was a huge success both commercially and mostly critically (see what we thought) and set the stage for the tenth high-octane flick. Diesel promises the upcoming movie will please longtime series fans because he's been listening and knows what they want. He continued:
While Diesel didn't reveal any specific details about how the franchise will say goodbye to Brian O'Conner, his comments suggest that it will be a fitting tribute to the character and the actor who brought him to life. The Fast and Furious movies have always been about family, and saying goodbye to one of their own will no doubt be an emotional and poignant moment for fans of the series.
Fast X races into cinemas on May 19. For more movie and entertainment news, make sure to stay tuned to CinemaBlend, and check out our list of 2023 new movie releases to plan your next trip to the movies.
Your Daily Blend of Entertainment News
Ryan graduated from Missouri State University with a BA in English/Creative Writing.