Michelle Rodriguez Responds After F9 Breaks Pandemic Box Office Records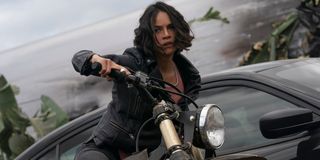 Fast and Furious 9 had an incredible opening weekend, shattering the pandemic-era box office record with a reported $30 million opening day and a $70 million opening weekend. Domestically, the movie continues to do well, approaching the $100 million mark in its second week in theaters. Now the film's co-star, Michelle Rodriguez, has responded after F9 broke the pandemic box office records, and she seems super thrilled.
F9 played in a little more than 4,000 theaters, which is the most of the pandemic era by a wide margin. As restrictions have eased, more people are going to movie theaters again, and F9 has been the perfect example of what blockbusters are still capable of after such a long down period for in-theater movies. Michelle Rodriguez celebrated F9 breaking U.S. pandemic box office records on Twitter, saying:
Michelle Rodriguez says her heart is full from the support the film has gotten, resulting in it being the biggest movie of the pandemic era in the US. Rodriguez also says that the success of Fast and Furious 9 proves that movie theaters are here to stay and that fans have let it be known that the 'big screen' still has its place in the world of movies. F9 is also one of the only major films to come out exclusively in theaters and not have an option to stream at home, which has only added to its success in theaters.
The success of F9 is an excellent sign for movie theaters, and it has proved to be an essential film for the future of movie theaters. The big-screen experience is so unique, and movies as action-packed and loud as F9 are meant to be seen on the biggest screen possible with the best sound systems blaring all around you. Internationally, F9 has been playing for a few weeks and has already grossed over $330 million, and if that's not a sign that movie theaters still have a place in the movie landscape, what else will it take?
Movie theater champion Christopher Nolan has recently talked about his affection for Fast and Furious: Tokyo Drift which meant a lot to returning Fast star Sung Kang. Fast and Furious 9 has passionate fans all over, and its end credits pay tribute to the series legacy in a cool way that longtime fans will appreciate.
F9's ending sets up the end of the main Fast Saga, setting the stage for an epic ending in Fast 10 and 11. Despite the main saga ending, there will most definitely be several spin-offs, and F9 is a showcase for some cool ideas. The success of F9 means a great deal to the future of movie theaters and the future of the franchise itself, so fans can rest assured, it's is going to be around for a long time.
Your Daily Blend of Entertainment News
Movie and TV obsessive. A good Heist movie is the way to my heart. Enjoyer of everything from Marvel Movies to Rom-coms.