How John Candy's Children Honored Him On The 29th Anniversary Of His Death
He was definitely taken far too soon.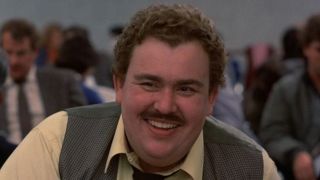 (Image credit: Paramount)
March 4th marked 29 years since the world lost comedy legend John Candy far too soon at 43. Through the 1970s, '80s, and '90s, the man consistently proved himself to be an undeniable comedic talent with a unique voice, and it was a terrible day for many in '94 when it was announced that he had passed away due to a heart attack. The Canadian-born actor and funnyman only graced our screens and our lives for a short time. Still, fans and loved ones have kept his comedic legacy and memory alive for years by regularly revisiting his classic work on both the big and small screens. And on the anniversary of his death, his children took the time to honor him.
Both of John Candy's kids, actors Jennifer Candy and Chris Candy, posted to their Instagram accounts in honor of their father's memory. They each shared photos of their late dad and messages of love and loss. John's daughter Jennifer (who in the past has said her dad was closest to his Uncle Buck character) shared an image of her next to her papa, saying she will "always miss him." You can see her heartfelt post below:
The late actor's son shared a candid image of his comedian pops on social media, as he was seemingly caught a little off guard but looking sharp in a leather jacket. Chris Candy shared a message to his dad, saying that he thinks of him daily, and though it isn't easy, his wisdom still remains with him. See the post for yourself:
John Candy was born in Newmarket, Ontario (part of the Greater Toronto area), and began acting professionally in his early 20s. He began earning a substantial fanbase during his years on SCTV (a Canadian branch of the Chicago comedy troupe Second City that was televised). Candy turned down some iconic roles but, through the 1980s, he starred in several of what are now considered iconic comedies. Some of his most extensive parts were in The Blues Brothers, Stripes, National Lampoon's Vacation, Spaceballs (in which he wore a problematic costume), and Splash. Never slowing down, he continued making great movies until the day he died, with his work in the 1990s including John Hughes collaborations like Home Alone and the sports film inspired by the true story of a Jamaican bobsled team, Cool Runnings.
It isn't only his kids who keep the late actor's memory in the public eye. The Spaceballs actor's hometown of Toronto honored John Candy in the sweetest way by naming his birthday (which happened to be Halloween) as John Candy Day going forward. Jennifer and Chris shared their gratitude with the city for honoring their father in this way.
The Great Outdoors actor also had a massive impact on other Hollywood A-Listers. When it was announced that fellow Canadian star Ryan Reynolds was making a movie about his life, the Deadpool performer didn't hesitate to show his love for the comedy legend before simply saying in a tweet, "Expect tears." How could we honestly expect anything less?
The Planes, Trains and Automobile star's children followed in their father's footsteps by becoming actors, another way they keep his legacy going. It's never easy to lose a loved one, especially a parent, but it's lovely to see how the Candys continue to cherish memories of their dad. Our hearts go out to Jennifer and Chris as they honor their father and his legacy.
John Candy will remain deeply missed by fans and family, but you can still watch Candy's greatest movies. And thank goodness we still have those.
Your Daily Blend of Entertainment News
Ryan graduated from Missouri State University with a BA in English/Creative Writing.