Hugh Jackman Humorously Explains How He Wants To 'Stick It' To Ryan Reynolds And His Soccer Team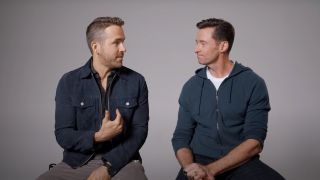 (Image credit: Ryan Reynolds YouTube)
There is nothing quite as juicy and entertaining as a good Hollywood rivalry. And few public squabbles have been half as entertaining as Hugh Jackman and Ryan Reynolds 'faux "feud," which has played out for over a decade. If you know anything about the history of Jackman and Reynolds' hilarious saga of bickering, then you know it has played out over social media posts, interviews, and movies. And now, the "war" may have even bled over into the world of sports. The Wolverine actor recently (and humorously) explained how he wants to "stick it" to Reynolds and his newly purchased soccer team.
The Australian-born actor appeared on the BBC political program Sunday with Laura Kuenssberg, where he discussed everything from toxic masculinity, his return to Marvel movies, and his adorable love-hate relationship with Ryan Reynolds. The talk show host asked the Hollywood Mega-star if Ryan Reynolds's recent purchase of the Welsh football team Wrexham A.F.C. (which was documented in FX's Welcome to Wrexham series) made the Greatest Showman actor consider buying a sports team of his own. Jackman said that since Reynolds' acquisition of the soccer club, he has been offered several chances to come in as a co-owner of rival teams but has a better idea of how to get under his frenemy's skin. The actor jokingly told the host:
According to the X-Men veteran, it's "too easy" to buy a soccer team, and he'd much rather play for the team that will beat the Free Guy star's newly acquired football club. Talk about sticking it to Ryan Reynolds, alright. This Hugh Jackman guy knows how to scrap!
Though the Australia alum's busy schedule may keep him from joining an ownership group. His most recent film is The Son, which tells the story of a teenager battling mental illness, who moves in with his father and his new partner. Hugh Jackman was drawn to the role of the boy's father, who's confused about managing his son's depression, so the actor went as far as pitching himself to the filmmakers in order to get the role. Jackman said the movie is partly responsible for getting him to start therapy, which has been beneficial in helping him confront the unresolved trauma of his mother abandoning him when he was a child. The actor said that taking his mental health seriously has helped him be more "relational" with his friends and loved ones, which is lovely to hear.
However, he didn't say how those introspective chats have helped him manage his rivalry with Ryan Reynolds. At the very least, he stopped himself from purchasing a competing soccer team as a "gotcha," so that's at least something. Nevertheless, I'd expect even more trolling between these two very soon, especially as production on Deadpool (which will see them star alongside each other) begins.
Keep an eye out for more on Hugh Jackman and Ryan Reynolds's "feud." Until then, perhaps consider watching the Marvel movies in order, as all you need is a Disney+ subscription) to get yourself jazzed for the Merc with the Mouth and Wolverine's big MCU debuts.
Your Daily Blend of Entertainment News
Ryan graduated from Missouri State University with a BA in English/Creative Writing.