Mark Wahlberg Opens Up About Sharing His Faith In His Acting Work Despite Hollywood Not Being Particularly Religious
How Mark Wahlberg mixes faith with his acting work.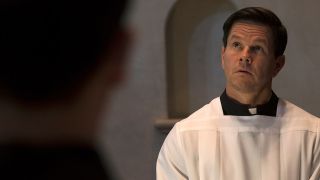 (Image credit: CTMG)
Mark Wahlberg is a devout Catholic who always placed emphasis on his religion. Since starring in the biographical faith movie Father Stu, he's wanted to build a "new chapter" in his Hollywood career where he could make more movies that inspire people. This comedy/drama actor explains how despite Hollywood being not so religious, it doesn't stop him from sharing his faith in his acting work.
Before Mark Wahlberg blew audiences away with his performances in Boogie Nights, The Fighter, and The Departed, he was a member of the pants-dropping hip-hop group Marky Mark and the Funky Bunch. Wahlberg said he needed to find something inside himself to encourage him to transition from music to movies. The Academy Award winner spoke The Today Show about his involvement in his Catholic religion, saying:
Wahlberg continued to express that he's not one to force religion into anyone, but also refuses to deny his own faith whenever there's an opportunity to show it. Religion may not be popular in Hollywood as faith-based movies aren't standouts during award season, but he still wants to share his faith with the world. Faith has never been ignored in Mark Wahlberg's career like when he once made controversial comments that he wanted forgiveness from high above for starring in Boogie Nights. However, he clarified those comments by explaining he was just joking around as he didn't know how playing a porn star would look in the eyes of God. Then, there was the time he humorously apologized to the Pope for Ted when he found out a 14-year-old boy loved the movie. In the end, it seems like it's all about giving a performance.
Another incident where this leading man wanted to mix faith with Hollywood was getting Father Stu made. This biographical drama that Wahlberg starred in and produced about a boxer-turned-Catholic priest involved him spending "millions and millions" to get it made. After offering the script to some people, they didn't have faith of their own that it would be a successful movie. The Daddy's Home actor says people only saw the tragedy in Father Stu struggling with a progressive muscle disorder than the inspiring story behind a boxer getting a second chance at life. Even Father Stu's cast felt like the film set itself apart from the faith-based drama by blending amusing, funny aspects with inspiration and hope.
It appears that Mark Wahlberg's next string of movies doesn't seem to be risqué comedy projects he'll have to ask forgiveness for. He'll be co-producing and starring with MCU actor Simu Liu in the true story adventure film Arthur the King about an adventure racer who adopts a stray dog named Arthur to join him in his next race. He'll also star and co-produce the action thriller Our Man From Jersey about a construction worker who transforms into a spy. I'm sure these two projects will help transform Mark Wahlberg's career with him playing a role behind the camera as well.
Mark Wahlberg is a very inspirational actor in spreading his faith toward his future works despite Hollywood's somewhat hesitation. Keep checking in towards our 2023 movie releases so you'll be the first to know when Mark Wahlberg will head into theaters soon.
Your Daily Blend of Entertainment News
Just your average South Floridian cinephile who believes the pen is mightier than the sword.