My Year of Dicks: Things To Know About The Oscar-Nominated Animated Short
Eye-catching name, incredibly personal story.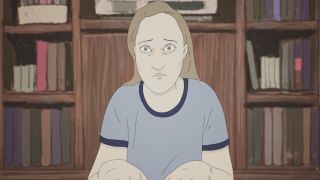 (Image credit: Pamela Ribon)
There were a lot of surprises when the 2023 Academy Award nominations were revealed in January 2023, but one of the biggest was the way in which the internet became absolutely obsessed with Allison Williams and Riz Ahmed as the two actors went through all the categories. And there was one specific moment, when the Oscar winner seemed to lose his composure after announcing My Year of Dicks in the Animated Short Film category. Soon after, the short film, directed by Sara Gunnarsdottir and written by Pamela Ribon, became the talk of the internet.
If you are one of those people who became intrigued by the title of Oscar nominated animated short (we all are, actually), there's a good chance that you want to know about it. Well, you've come to the right place, because we are about to break down a few things to know about the incredibly poignant, brilliantly animated, and highly personal exploration of teenage desires.
My Year Of Dicks Chronicles Pamela Ribon's Attempts To Lose Her Virginity
Based on Pamela Ribon's memoir Notes to Boys (And Other Things I Shouldn't Share in Public), Sara Gunnarsdottir's 24-minute animated short film My Year of Dicks, chronicles a 15-year-old Ribon's attempts to lose her virginity. Sometimes horrifyingly awkward and other times so relatable it becomes shockingly funny, the animated short captures the essence of those awkward moments that filled our teenage years as we attempt to find out who we are and what we want out of life, love, and our own sexuality.
The Short Is Split Into Five Chapters
My Year of Dicks is broken up into five chapters, each focusing on a different boy, or "Dick," in Pamela's journey. Each of these chapters starts in the same way – a live-action clip of the real-life Ribon introducing the segment before the title card appears – before diving into her experiences. These chapters follow the teenage girl as she encounters skaters, handsy cinema employees, crushes at an amusement park, a straight edge skinhead, and a concluding segment with an unlikely lover.
It Employs Multiple Genres And Animation Styles
One thing that really makes My Year of Dicks stand out is the way in which it makes use of different genres and animation styles to create a unique and fresh experience. Over the course of its runtime, you will see horror, anime, surrealism, and rotoscoping that makes certain segments look and feel like something out of Heavy Metal or Richard Linklater's A Scanner Darkly.
The Short Film Is Suitable For Mature Audiences Only
Though My Year of Dicks is an animated short film, it is very much suited for mature audiences only. There's drug use, sexual encounters, adult language, and situations that will be a little too much for younger viewers. If you're trying to save "The Talk" for another day, best to wait for the young ones to go to bed before you watch.
You Can Watch My Year Of Dicks Streaming On Vimeo
You don't have to subscribe to another streaming service or pay for a short-term rental to watch My Year of Dicks streaming, as the Oscar-nominated animated short film is available for free on Vimeo. All you have to do is go to the Vimeo website on your phone or computer to stream My Year of Dicks or download the app on Apple TV and Roku to watch it on your TV.
Stream My Year of Dicks on Vimeo. (opens in new tab)
Will My Year of Dicks beat out competitors like The Boy, The Mole, The Fox, and the Horse, The Flying Sailor, Ice Merchants, and An Ostrich Told Me the World is Fake and I Think I Believe it? Find out when the 95th Academy Awards air Sunday, March 12, 2023 on ABC. For details on more awards shows, check out the 2023 TV schedule.
Your Daily Blend of Entertainment News
Philip grew up in Louisiana (not New Orleans) before moving to St. Louis after graduating from Louisiana State University-Shreveport. When he's not writing about movies or television, Philip can be found being chased by his three kids, telling his dogs to stop yelling at the mailman, or yelling about professional wrestling to his wife. If the stars properly align, he will talk about For Love Of The Game being the best baseball movie of all time.