Nope Reviews Are Online, And While The Critics Are Split, They All Agree On One Aspect Of Jordan Peele's Storytelling
By Heidi Venable published
What are critics saying about the sci-fi horror?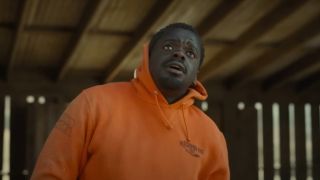 (Image credit: Universal Pictures)
Jordan Peele appears primed to creep us out and make us think yet again with Nope, his third go-round as director/writer in the horror genre. Daniel Kaluuya, Keke Palmer, and Steven Yeun are set to star in this sci-fi story, whose details remain mostly a mystery to its would-be audience — and that's totally by Peele's design. The reviews are in, however, to give us an idea of what to expect, and while they don't all agree on how successful the movie is, there's no argument amongst critics that Peele remains a master at creating suspense.
Audiences' first reactions to the film were pretty positive, with many praising the brother-sister duo of Keke Palmer and Daniel Kaluuya. Let's dive right in and see what they have to say about the atmosphere Jordan Peele was able to create and about the movie overall, starting with our own CinemaBlend review of Nope. Eric Eisenberg rates the movie 4.5 stars out of 5, saying Peele continues to make waves in Hollywood in the most remarkable way, and with his third project he again proves successful at dropping jaws and making viewers unconsciously stop breathing:
Robert Daniels of Polygon, however, doesn't agree. He says while Nope will certainly enthrall and frighten audiences, it's unlikely to stick with them. While this critic refuses to call this a "bad" movie, it is the weakest of Jordan Peele's trio, he says:
Matt Rodriguez of Shakefire enjoys the ride that Nope provides the audience, rating it 4 out of 5 stars. The director takes moviegoers on a roller coaster ride, building the tension to a climax before taking it back down to allow people to breathe before doing it all over again. From the review:
Lovia Gyarkye of THR says Jordan Peele proves, as with his previous ventures, that he's unafraid of his imagination. While she admits parts of the movie don't gel, this critic says Nope is as fun as it is ambitous, and Peele does a great job of balancing the humor with the overall suspenseful mood:
Like the critics above, Alonso Duralde of The Wrap notes that the director maintains a masterful level of being able to create suspense, and he does so several times over the course of the film. However, the metaphor he's trying to relay fails to come together, the review says:
Does Nope sound like a movie you'll be saying "Yep" to? If you're excited to catch this one in theaters, you don't have long to wait, as it will premiere on Friday, July 22. You can also check out these other Jordan Peele TV shows and movies, and be sure to take a look at our 2022 Movie Release Schedule to see what else is coming to theaters soon.
Mom of two and hard-core '90s kid. Unprovoked, will quote Friends in any situation. Can usually be found rewatching The West Wing instead of doing anything productive.
Your Daily Blend of Entertainment News
Thank you for signing up to CinemaBlend. You will receive a verification email shortly.
There was a problem. Please refresh the page and try again.