One Of Jordan Peele's Nope Stars Reveals How They Made The Director Cry During Audition
Get out... Jordan Peele cried?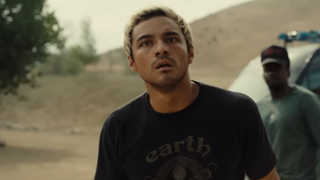 (Image credit: Universal Pictures)
Auditions can be very nerve-wracking experiences for actors. They can especially be anxiety-ridden when the star is relatively unknown and the movie they are auditioning for is from one of the highest-profile directors. Well, that's precisely the situation Brandon Perea faced when he auditioned for Jordan Peele's latest, Nope. Unless you're a fan of The OA (in which he played French) or the short films Oh, Sorry and Delivery, you may not be familiar with Perea's past work. The young actor is now revealing that not only did he knock out his audition for Peele's movie but that he made the director cry as well.
Brandon Perea recently sat down with The Hollywood Reporter to discuss the Critics Choice rising star award that he will be presented with on November 13th. The discussion soon turned to the actor's breakout performance as Angel Tores in Peele's science-fiction UFO thriller. The actor revealed that Angel was far nicer and less angsty in the original script, but he chose to stand out and played the character with a bit more edge. The actor said:
It's a decision that clearly played off for the actor. We know Perea's audition wowed the director so much that Jordan Peele rewrote the part of Angel. Perea says he was asked to do a callback via Zoom, where he did an improv session with Peele. The actor learned in that callback that he had landed the part, which caused him to cry. The show of emotion must have gotten to the filmmaker because he, too, began to cry. As Perea explained:
Could you imagine having an improv session with one of the creators and stars of Key & Peele, one of the best sketch comedy series of all time, let alone an Oscar-winning director, and making them cry when it's all said and done? This is such a great and heartwarming story, and it's fantastic to see the young actor's career on the rise. While Nope may have received mixed critical reviews and many don't consider it the best of Jordan Peele's movies, it was still a significant success at the box office. It will surely help push Brandon Perea's career on an upward trajectory. I can't wait to see what the actor does next and wish him all the luck in accepting his award!
One of Brandon Perea's upcoming new movie releases is the thriller AMP House, co-written and co-directed by Dame Pierre and Mike Ware. Until then, you can enjoy his performance in Nope when it hits streaming on November 18th. All you need is a Peacock subscription.
Ryan graduated from Missouri State University with a BA in English/Creative Writing.
Your Daily Blend of Entertainment News
Thank you for signing up to CinemaBlend. You will receive a verification email shortly.
There was a problem. Please refresh the page and try again.