People Constantly Pronounce Oscar Nominee Paul Mescal's Name Wrong, But He Jokes He Could Get A Tequila Deal Outta It
What's the right way of pronouncing Paul Mescal's name?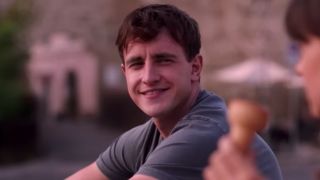 (Image credit: Hulu)
Paul Mescal has become a trending celebrity lately. You may know him from the acclaimed Hulu series Normal People, which portrayed a complicated romance between two different people. But now, the Academy knows him too after garnering his first nomination for Best Actor. What people may not know after all of this time is the right way to pronounce this Irish actor's name, but Mescal mentions on the bright side that he can get a tequila deal out of it.
Of all times right now, we need people to pronounce Paul Mescal's name correctly. After all, when the Academy pronounces his name to announce his nomination and possible win, we want to hear it for what it actually is, and we don't need another Adele Dazeem disaster. For better clarification, Mescal dished to The Hollywood Reporter how the world should be pronouncing his name and how the funny mispronunciation can work in his favor down the road.
Mescal's Mezcal. It has a nice ring to it, wouldn't you say? So let the record show that his name is pronounced Paul MES-COLE and not Paul MES-CAALE. It's not uncommon for Irish name pronunciations to be confusing for Americans. For example, another celebrity whose name is famously mispronounced is fellow Irish performer Saoirse Ronan, whose name is pronounced SUR-SHA Ronan. Another Irish actor on that list with a confusingly mispronounced name would be Domhnall Gleeson, with the correct pronunciation being DOH-NALL GLEE-SEN. It can be very frustrating when this happens, but those with a good sense of humor can poke fun at the situation too.
When you find out that this whole time that a celebrity's name has been mispronounced repeatedly, it can feel like everything you've known has been a lie! To ease your worries here, a lot of celebrities have been coming clean about how people really should be saying their names. The latest celebrity to reveal their name pronunciation was Raven-Symoné. Believe it or not, her last name is not pronounced SI-MOWN. It's pronounced SEE-MON-YE. Tia and Tamera fans have also faced mispronunciation', in that their last name is pronounced MORE-EY and not MAOR-EY. They've admitted there are plenty of times where they let it go, but just want the record to be clear on how to really say it.
More people are knowing Paul Mescal's name now since his first-time Oscar nomination. The 27-year-old starred in one of the best under-the-radar movies of last year called Aftersun, which is about a girl's final memories of her father who was exhibiting signs of underlying depression during her childhood. The brilliance of Mescal's performance was how relatable he portrayed it. We were given an illustration of the enigma of a woman's thoughts as she tries to piece together memories of her young father trying to connect with her during her childhood with his failure to fully do so. His A24 debut was, thankfully, recognized by the Academy, and this is only the start of a growing career he'll have.
Whether Paul Mescal (pronounced MES-COLE) continues acting or finally creates that tequila business, he's going to places where we'll all see his name in. Take a glimpse at our 2023 movie releases to better follow this Best Actor nominee's career for his future film projects
Your Daily Blend of Entertainment News
Just your average South Floridian cinephile who believes the pen is mightier than the sword.