See Kate Hudson Awkwardly Correct A Reporter Who Stated She Was An Oscar Winner
Well, that was embarrassing...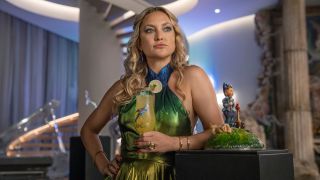 (Image credit: John Wilson/NETFLIX)
Sadly, Kate Hudson has never won an Oscar, and it was hard not to feel the secondhand embarrassment for both the actress and a reporter as she was asked about what it felt like to take home an Academy Award. Luckily, everything was fine in the end as the Glass Onion star made the correction, and politely spoke with the journalist, but man it was awkward for everyone involved.
Kate Hudson was at the ceremony to present an award to one of the 2023 Oscar winners, and support her Glass Onion director Rian Johnson, as the movie was nominated for Best Adapted Screenplay. The charismatic actress walked the carpet, and spoke with a journalist from ABC News, which was when this awkward moment was caught on camera:
"Kate, you know what it's like to win an #Oscar"Kate: "Um….I've never won an Oscar."#Oscars #KateHudson pic.twitter.com/kma46RV9T3March 12, 2023
The interviewer confidently asked her how it feels to win, and then she politely responded and corrected him, saying she's never won, but she has been nominated. He then tried to save the moment saying she's won in his head, and she ended the conversation by saying she was sure it feels amazing to win. Overall, this moment was cringy, because getting asked about an award you've never won, and having to make the correction yourself has to be not only awkward but a bit frustrating.
I felt so bad for Hudson. However, she handled the situation with grace, and she made sure to mention that while she hasn't won, she has been nominated.
Back in 2001, Hudson was nominated for her performances as Penny Lane in Almost Famous. To this day, her role in the classic Cameron Crowe movie is one of her best, and she totally deserved the recognition she got for the role. She was nominated alongside Judi Dench, Frances McDormand (who was also nominated for her role in the Almost Famous cast) and Julie Walters. However, Marcia Gay Harden took home the trophy that night for her performance in Pollock. Since then, the How To Lose a Guy in 10 Days star hasn't received another nomination, but she's still a beloved actress who has appeared is critically acclaimed films.
While the moment was awkward, and there is no way around that, all things considered, Hudson handled it very well. She seems like a very gracious and nice person, and she spoke to that reporter in the best way she could. The actress has always been this way, she's spoken candidly about the nepo baby debate, bluntly about modern rom-coms and her charisma always shines through, even when she has to correct a journalist about an award she hasn't won.
Hopefully, someday, Kate Hudson will win an Oscar and know what it feels like to stand on that stage. But, while we wait for that to happen we can always go back and watch her stun as part of the Glass Onion cast with a Netflix subscription, and you check out her Oscar-nominated performance as the legendary Penny Lane in Almost Famous with a Paramount+ subscription.
Your Daily Blend of Entertainment News
Riley Utley is a Weekend Editor at CinemaBlend. She spent many years working in local journalism across the country writing about art, news and sports. One of her favorite films is When Harry Met Sally and she walks around constantly quoting Ted Lasso.