That Time Julia Roberts Cost The Shakespeare In Love Production $6 Million. Later, Gwyneth Paltrow Stepped In
Parting was such sweet sorrow to Julia Roberts for Shakespeare in Love, leading Gwyneth Paltrow stepped in.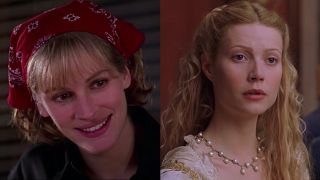 (Image credit: Sony Pictures Releasing/Miramax Pictures)
Shakespeare in Love is one of the best romantic comedies inspired by a Shakespeare play, and won seven Oscars including Best Picture. But did you know that Julia Roberts was originally supposed to play the lead role of Viola de Lesseps? When Julia Roberts backed away from this period drama costing the production $6 million, Gwyneth Paltrow stepped in and took on the role herself.
Julia Roberts is known for sharing excellent chemistry with her male leads with her best rom-coms being Mystic Pizza, Pretty Woman, and My Best Friend's Wedding. Shakespeare in Love could have been next on her list if only she was able to find chemistry with her potential male leads. According to Variety, producer Edward Zwick wrote a first-person essay for Air Mail about the frustrating experience he had when Roberts failed to find chemistry with the film's male lead, Ralph Fiennes.
With Julia Roberts being one of the biggest stars of the '90s, Universal Pictures only agreed to work on Shakespeare in Love if Roberts was headlining it. But if I can think of why the Pretty Woman star couldn't find chemistry with Ralph Fiennes, it could be out of disappointment in not being able to work with Daniel Day-Lewis. According to Zwick, the then-24-year-old was "obsessed" with working with this English actor to the point where she asked her assistant to send him two dozen roses with a card that read "Be my Romeo." But the My Left Foot actor wasn't able to take on the project due to his commitment to the biographical crime drama In the Name of the Father.
Even though the rom-com queen couldn't find chemistry with Ralph Fiennes, the show still had to go on and find someone she could connect with on-screen. Zwick continued speaking about how Roberts was finding issues with each male prospect who was gunning to play The Bard.
The next two weeks were spent with more chemistry reads with The Pelican Brief actress agreeing to read with English actor Paul McGann. However, Zwick said he discovered why these reads continued to fail.
It sounds like Julia Roberts was no longer vibing with any prospective male leads or the project in general. The timing of it all couldn't have been more terrible for Universal as they already spent $6 million on the project with sets being built, costumes being made, and locations being arranged. Luckily, Gwyneth Paltrow was able to replace Roberts and won the Academy Award for Best Actress that year. This movie did wonders for the American actress who took on more successful roles in The Talented Mr. Ripley, The Royal Tenenbaums, and Proof. All of this newfound attention even caused her to hide out at her parents' house for weeks after her win. Universal Pictures must have felt lucky they had this talented actress there to save the movie.
Edward Zwick ended his letter by saying he has no hard feelings for Julia Roberts and understood the stress she was going through during the time of casting. It proves that not all roles are meant for everyone and there are plenty of upcoming actresses out there willing to say "yes" even when others have said "no." You can watch Shakespeare in Love right now on your Paramount+ subscription. You can also check out our 2023 movie releases to see what movies have the potential to make it to your watchlist this year.
Your Daily Blend of Entertainment News
Just your average South Floridian cinephile who believes the pen is mightier than the sword.