Triangle Of Sadness: Things To Know About The Oscar-Nominated Movie
Triangle of Sadness is up for Best Picture, and it's incredible.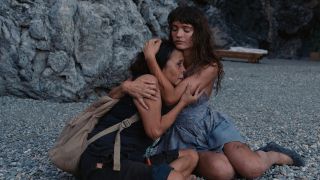 (Image credit: Neon)
This year's nominees for Best Picture at the Academy Awards includes a number of popular films, including Avatar: The Way Of Water, Top Gun: Maverick, and Everything Everywhere All At Once – but one title that may have people scratching their heads is Triangle Of Sadness. The movie is also nominated for Best Original Screenplay and Best Director, but it didn't end up doing much at the box office when it was released in theaters last October, and it's definitely not among the most high profile films up for Hollywood's biggest prize this year.
That's a shame, however, because Triangle Of Sadness is one of the best films of the year, and should be seen by everybody. For those of you who don't know what the movie is and/or are on the fence about seeing it, we've put together this guide explaining what you should know about it and why you should watch it.
It's Written And Directed By Acclaimed Filmmaker Ruben Östlund
Hailing from Sweden, writer/director Ruben Östlund has been earning critical acclaim for years – particularly turning heads back in 2014 with his dramedy Force Majeure. In 2017 he followed that work up with the black comedy The Square (starring Claes Bang, Elisabeth Moss, and Dominic West), and Triangle Of Sadness is his first feature film since then.
The Film Has A 140 Minute Runtime, And It Earns It
It's understandable that any movie-goer might balk at a film that sports a two hour and 20 minute runtime, but Triangle Of Sadness earns your attention and is a wonderful cinematic investment. This is partially because it's tremendously funny and outrageous, but also because the script is wonderfully written and there is a strong structure in play.
The Film Unfolds In Three Different And Distinct Parts
Without giving too much away, Triangle Of Sadness operates with a specific three act structure that has the story unfold in three parts. The first introduces a pair of models, Carl and Yaya, who get in a fight about their relationship and the gender roles within it; the second sees Carl and Yaya board a luxury cruise booked mostly by wealthy guests; and the third follows events that transpire when the cruise is hit with disaster.
Like Glass Onion, The Menu, And White Lotus, It's A Social Satire Aimed At The Ultra-Rich
Pop culture has been taking aim at the ultra-rich quite a lot recently – with films such as Glass Onion and The Menu and television shows like The White Lotus – and Triangle Of Sadness is very much a title that is part of that wave. There are a number of genre designations to throw around (such as "gross-out comedy" and "survival drama"), but above all else it's a knife-sharp satire.
Triangle Of Sadness Stars Harris Dickinson Woody Harrelson, And More
The cast of Triangle Of Sadness doesn't feature a great number of recognizable stars, but the ensemble does boast The King's Man star Harris Dickinson as the aforementioned Carl, and Woody Harrelson plays the drunk captain of the luxury cruise. Charlbi Dean has earned acclaim for her turn as Yaya, but sadly died at the age of 32 following completion of her work on the movie.
Dolly De Leon Has Earned Acclaim For Her Performance, But Was Snubbed By The Oscars
All of the actors in Triangle Of Sadness do tremendous work, but the performance that has been turning the most heads is Dolly de Leon's. Given that her role is almost entirely in the third part of the film, explaining much about her part would be giving too much away, but de Leon has been nominated for a number of awards this year – including a BAFTA. Sadly, she did not get a nod in the Best Supporting Actress category at the Oscars, but she was certainly in the running.
Triangle Of Sadness Requires An Iron Stomach, As Things Get Very Gross
If you tend to get queasy when it comes to bodily fluids flying on screen, you may want to consider whether or not you want to watch Triangle Of Sadness. Again, I'm avoiding spoilers, but it should be mentioned that motion sickness ends up being a big thing in the middle part of the film, and things get quite disgusting.
Triangle Of Sadness Won The Palme d'Or At The 2022 Cannes Film Festival
Obviously we don't know at this point how Triangle Of Sadness will fare at the 2023 Academy Awards, but it is worth noting that the film has already won one of the industry's most prestigious prizes. Prior to its theatrical release, the movie premiered at 2022 Cannes Film Festival, and it ended up winning the Palme d'Or – the event's top prize.
Triangle Of Sadness is not presently available on any subscription streaming services, but it is available for digital rental and purchase at online outlets including Amazon Prime Video (opens in new tab), Vudu (opens in new tab), Google Play (opens in new tab), and Apple (opens in new tab).
The 2023 Academy Awards will be held on March 12 and air on ABC, and you can start catching up with all of the titles up for prizes with our 2023 Oscar Nominee Streaming Guide. Stay tuned here on CinemaBlend for more of our coverage in the run up to the event, and in the spirit of it never too early to prepare for the next awards season, you can learn about all of the films on the way to theaters and streaming in the coming months with our 2023 Movie Release Calendar.
Your Daily Blend of Entertainment News
Assistant Managing Editor
NJ native who calls LA home and lives in a Dreamatorium. A decade-plus CinemaBlend veteran who is endlessly enthusiastic about the career he's dreamt of since seventh grade.