7 Upcoming Movies And TV Shows With Pacific Islander Representation, Including Jason Momoa's Chief Of War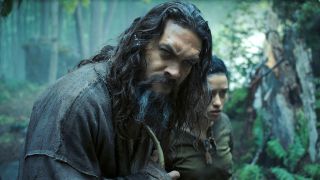 (Image credit: Apple TV+)
Representation has been a major topic of discussion within the entertainment industry for some time now, and you could argue that slowly but surely, progress is being made. Pacific Islanders make up just one subset of the population that seeks to have their stories told across multiple mediums. There's still plenty of work to be done on that front, yet there have been productions in recent years that shed light on Pacifican culture. Part of this is due to the efforts of stars like Jason Momoa, Auliʻi Cravalho and Jason Scott Lee. There are a number of upcoming movies and TV shows on the way as well, including Momoa's Chief of War series. And, we're going to take some time to discuss those forthcoming projects.
May is Asian American & Pacific Islander Heritage Month, during which the public celebrates the cultures and gives people a space to speak about their experiences. (Of course, we should do this all year round, too.) So, what better way to kick off this special occasion than by highlighting some of the entertainment offerings that are on the way from talented individuals of Pasifika descent? There are some exciting and intriguing titles on the docket that audiences may want to keep an eye out for, so let's jump in and talk them out!
Chief Of War
Announced in the spring of 2022, Chief of War is starting to gain a bit of notice from TV junkees. The drama, which stars and is executive-produced by Jason Momoa, is a historial limited series that opens up at the turn of the 18th century during the war of the four kingdoms of Hawaii. Momoa plays the role of Kaʻiana, a war chieftan who seeks to unite the factions after traveling outside his home and learning of the invaders that threaten their island. Other notable stars within the cast are Star Wars icon Temuera Morrison, The Night Agent's Luciane Buchanan and Fear the Walking Dead alum Cliff Curtis.
Production began in October 2022 in New Zealand, with filming also taking place in Momoa's native Hawaii. (Some locals weren't too happy, though, due to the shoot causing a lucrative farmer's market to temporarily close.) This is something of a passion project for the star, who's proud of his heritage. Amid filming, an open casting call was put out for Hawaiian residents, as the actor is aware that Hollywood has been "inaccessible" for so many people for so long. A release date has yet to be announced for the series, but what is known is that you'll need an Apple TV+ subscription to check it out.
Lilo & Stitch
Walt Disney Studios has been knee deep in live-action remakes as of late, and one of the latest classic films to get the treatment is Lilo & Stitch. Given the popularity of the 2002 animated film, it was probably only a matter of time before it was chosen for a revamp. The movie was confirmed to be in the works back in 2020, but it really gained new steam after hiring director Dean Fleischer Camp. The filmmaker previously directed Marcel the Shell with Shoes On, and this latest feature will mark his first collaboration with a major studio.
Lilo & Stitch has also been filling out its cast over the past several months, with the first attached star being comedy fan-fave Zach Galifianakis, who voices Dr. Jumba Jookiba. The lead actress is newcomer Maia Kealoha, who will bring the adorable Lilo to life. Chris Sanders is returning to voice Stitch. Other stars include OG Nani actress Tia Carrere, who plays a different role, Sydney Agudong, Kaipo Dudoit and Courtney B. Vance. Some may be skeptical about a remake but, based on what we know, it seems as though the producers are staying true to the original story. So, if you happen to have a Disney+ subscription, you might want to give it a chance whenever it drops exclusively on the streamer.
Moana
As mentioned, the House of Mouse has a number of high-profile reboots in the works, but I'm not sure a live-action Moana movie announcement was on people's bingo cards. The critically acclaimed flick did only hit theaters in 2016, after all. Nevertheless, Dwayne "The Rock" Johnson confirmed the movie in April 2023, and shared a heartfelt message about it. The star – a.k.a. the voice of the demigod Maui – is set to serve as a producer alongside the actress who brought the titular heroine to life, Auliʻi Cravalho.
The project appears to be in the early stages of development at this point, so not much is known. Reports, however, suggest that The Rock may be reprising his role. Moana was a major step for representation for Pacific Islanders, and one can only hope that this new adaptation builds on that progress.
Next Goal Wins
Before Taika Waititi directed Thor: Love and Thunder, he helmed another feature film called Next Goal Wins, which is adapted from the 2014 documentary of the same name. The sports dramedy tells the story of the American Samoa national football team, as Dutch-American coach Thomas Rongen seeks to turn it into a formidable unit. If you're aware of the amazing story, then you'll know that the group ultimately managed to qualify for the 2014 FIFA World Cup. This is a perfect story for the Oscar winner and will hopefully include a balanced amount of heart, humor, and sports action.
The movie was also filmed in Honolulu and features a cast filled with Pacific Islander actors like David Fane, Oscar Kightley, Uli Latukefu, and Beulah Koale. Also part of the cast are Michael Fassbender, Elisabeth Moss, Rhys Darby, and Will Arnett. Waititi, who also co-wrote the script, has some strong ingredients here. As a sports fan, I'll definitely be heading to the cinema to see this sometime after it opens on November 17 as part of the schedule of 2023 new movie releases.
Far North
Fans may know Temuera Morrison best for his role as Boba Fett within the Star Wars franchise, but he's now set to take on another role that's pretty badass. The veteran actor is leading Far North, a New Zealand-based drama that's set to debut on Sundance Now. He and fellow veteran performer Robyn Malcolm play an ordinary couple who manage to thwart a massive deal initiated by a crime syndicate in the Pacific. That information is cool enough, but get this: the series is inspired by real-life events.
Joining the two stars on the six-episode series are Dimitrius Schuster-Koloamatangi, Maaka Pohatu, Fay Tofilau, Xana Tang, Fei Li and Gabriel Chao Ren. We have limited info on the plot, but this crime drama lover is already intrigued. If you are too, keep an eye on the 2023 TV schedule, which is where the release date will be found after it's confirmed.
The Islands
Peacock has more than a few small-screen productions in development, and one of them is The Islands. Announced in the spring of 2022, the show is described as a crime drama set against the backdrop of 1960s Hawaii. Plot details are scarce at the moment, but the show reportedly puts a significant amount of focus on American Imperialism and the effects it has on people. It's hard to say what that'll look like exactly, but know that there are some talented creatives putting it all together.
Longtime Fast & Furious director Justin Lin is executive-producing alongside Oscar nominee Steven Yeun of The Walking Dead, Minari, and Beef fame. They're joined by Eternals scribes Kaz and Ryan Firpo, who are penning the script. As of right now, there's no indication as to when the show might see the light of day. One would hope that when it does, it'll be an entertaining piece with a compelling story and some strong Native Hawaiian talent.
Untitled Duke Kahanamoku Biopic
Jason Momoa is one of the busiest stars in Hollywood so it shouldn't be surprising that he has yet another notable project on this list. The A-lister is planning to produce and star in a sports biopic about legendary athlete Duke Kahanamoku. The revered Hawaiian sportsman won five Olympic medals and is also widely known for popularizing surfing. In the process, he broke down racial barriers and is considered to be a trailblazer.
This movie reunites Momoa with Aquaman producer Peter Safran and, when discussing the project, the EP revealed that he'd long been "fascinated" by Duke Kahanamoku's story. If you're someone who enjoys sports movies and/or biopics (like me), then this should be right up your alley. Hopefully, this film gets off the ground, as it has the potential to shed light on an interesting individual.
There's definitely a lot to look forward to when it comes to Pacific Islander-led movies and TV shows. Here's to continued growth in representation and a great Asian American/Pacific Islander Heritage Month!
Your Daily Blend of Entertainment News
Covering superheroes, sci-fi, comedy, and almost anything else in film and TV. I eat more pizza than the Teenage Mutant Ninja Turtles.