Why M3GAN 2 Isn't Being Rushed Into Production, According To Jason Blum
Why there's no rush for M3GAN 2.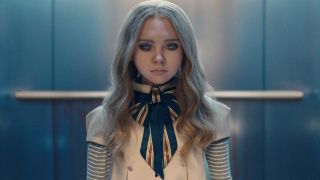 (Image credit: Universal/Blumhouse)
Beware of minor spoilers for M3GAN down below.
M3GAN is the horror movie we didn't know we needed. Now, it'll end up being the next big horror film franchise for this generation. All it took was the killer doll movie getting the meme treatment after its wild trailer came out, and it was already speculated that a sequel would be in the cards. Luckily, our prayers have been answered in that M3GAN 2 is officially happening, but Blumhouse CEO Jason Blum explains why this highly-anticipated sequel isn't being rushed into production.
They say that good things come to those who wait. That means we'll all have to do a lot of waiting for M3GAN 2.0 as you can't rush art. In an interview with Empire, M3GAN's producer Jason Blum explains why they're taking their time crafting this horror sequel, which isn't expected to come to theaters until January 2025.
I wouldn't be surprised if M3GAN 2 was nothing short of bigger and better. M3GAN's ending gave us a final tease of the original doll being destroyed after an intense battle with Gemma and Cady only for Gemma's smart home device to turn on its own. Could this mean M3GAN will exist in the form of other technical devices in the town like in Eagle Eye? Or could the M3GAN sequel get the I, Robot treatment where we get a whole army of M3GAN dolls? With viral marketing showing a team of M3GANs doing that viral dance at the film's premiere and a halftime performance at the Chargers-Rams game, we kinda get the idea of what we're in for if M3GANs decide to take over the world.
Two months before M3GAN's theatrical release, the New York Times reported that Universal was so impressed with the hype that this sci-fi horror film was receiving that they were thinking about a sequel. As M3GAN blew past box office predictions making double what was estimated, it was a given this AI robot's story wasn't over yet. What we know about the horror sequel so far is that its stars Alison Williams and Violet McGraw will be returning as well as writer Aleka Cooper. Producer James Wan also has an idea of where he'd like the world of M3GAN to go with plans of taking things to a whole other level. With a title like M3GAN 2.0, I'd like to hope that also means we'll get a new halftime show-worthy dance routine for the next one. Blum may have broken his "cardinal rule" about imagining a sequel to his works before it hit theaters, but that clearly means he has faith that M3GAN is a horror project that could bring about the same legacy that the Child's Play series brought out to audiences in the '80s.
The success that M3GAN brought to Universal and the horror genre, in general, is completely unbelievable and groundbreaking. Initial reactions said M3GAN was "worth the hype" as well as being "creepy," "fun," and "slays." Critical reviews were also raving about the box-office topper in introducing us to a new horror villain and successfully blending comedic campy qualities into it. Its Rotten Tomatoes score even matched up with Get Out's 98% score when it first came out. That's very impressive as M3GAN could have easily been too campy of a film for audiences to take seriously with all of its meme-able moments, but it proves that a movie has the potential to live up to its hype as long as we give it a chance.
It may be a slow and steady process to get M3GAN 2.0 up and running, but I'm confident the wait will be worth it. While you wait for the M3GAN sequel in January 2025, you can keep track of 2023's new movie releases to add to your watchlist.
Your Daily Blend of Entertainment News
Just your average South Floridian cinephile who believes the pen is mightier than the sword.