Teenage Son Murders Mother, Juvenile's Baby Daughter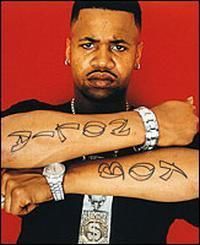 Senseless murders abound every day but few involve a Cash Money Millionaire. Just over two weeks ago, Juvenile made his way onto CinemaBlend for a pot bust – something almost expected from the rapper - adding to his already lengthy list of legal problems. Now it seems the multi-platinum artist, nee Terius Gray, has found himself on the other side of the law by way of the murder of his 4-year-old daughter.
According to the Atlanta Journal Constitution Jelani Deleston, along with Juvenile's baby-mama Joy and her other daughter Micaiah, 11, were gunned down Thursday in their Lawrenceville, Ga home. Authorities found the bodies after reportedly being alerted to gunshots heard in the area. The culprit? Allegedly it's none other than Joy's 17-year-old son Anthony Tyrone Terrell. Only Jelani belongs to Juve who, according to reports, at first denied paternity of the child in 2004. The case was settled in 2006 with Juve agreeing to fatherhood and subsequently paying child support.
No motive for the murders has been released but police have Terrell in custody after he pretty much confessed to the murders when questioned by police Friday. He is being held without bail in DeKalb County – not Gwinnett County where the murders occurred because Joy was a sheriff's deputy there. Juvenile's manager released a statement saying the rapper is "trying to grasp everything of what has happened. It really shocked him and devastated him to the point where I've never seen him before."
Your Daily Blend of Entertainment News