10 Blunt And Brilliant Daniel Craig Quotes About The New James Bond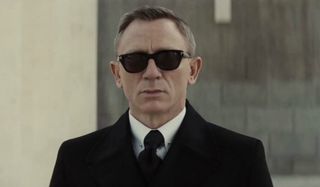 Daniel Craig's ready for a holiday. His work on the latest James Bond adventure, Spectre, is finished. All that's left is the promotion, which should take Craig and his 007 compatriots to the corners of the globe where they can market Sam Mendes' effort to the masses.
As part of that endeavor, Daniel Craig sat down with Time Out for a spectacularly candid interview about all things Bond, and if you are a fan of the agent with a license to kill – in particular, in Craig's take on the timeless spy – then the entire interview is a must read. The type of honesty that Craig brings to the conversation is refreshing and appreciated. Not that Craig has ever been one to pull punches or protect his opinion when speaking with the press. But his thoughts on Skyfall, Spectre, and the present and future state of James Bond are tremendously frank. Here are 10 of our favorite Craig soundbites, on the biggest Bond topics occupying his thoughts at the moment:
Daniel Craig on Spectre
"Everyone's been banging on to me about the gadgets. 'Where are the gadgets?' Before, it hasn't felt right. And it's not like we've made this one heavily into gadgets. But we've snuck a lot of stuff in. So, yes, it's got more bells!"
Daniel Craig's approach to 007 has been more grounded and realistic. Casino Royale, in fact, was the most stripped down and bare-knuckle Bond story we'd seen I years. This likely was a direct reaction to the grotesque overindulgence of the Pierce Brosnan era, but Spectre sounds like it's inching Craig closer to the classic Bond mythos. I mean, in Dave Bautista, he finally has a henchman to battle!
"Am I getting my kit off in this movie? Yes, I've been working out for six months. Of course I'm getting my kit off!"
Craig wants fans to know that while there might not be something as eye-catching as his ocean scene in Casino Royale, he understands the physicality of the role, and won't disappoint his dedicated followers.
"There was a conversation at one point that went: 'Let's film two movies back to back.' I just went: 'You're out of your fucking minds.' In the nicest possible way. They're just too big."
That rumor did make the rounds for a while, with screenwriter John Logan, at one point, concocting a storyline that would entail two movies. It's still possible Spectre might end with a cliffhanger that has to be resolved in the next Bond movie, but Craig needs time before he even starts wrapping his brain around that.
On Daniel Craig vs. James Bond
"I know that how Bond wears a suit and walks into a room is important. But as an actor, I don't want to give a fuck about what I look like! So I have to play with both things."
There are multiple moments in this entertaining interview where Daniel Craig points out the stark differences between himself and the iconic character he has been playing in four separate movies now. For example, while many view 007 as the epitome of awesomeness, Daniel Craig is quick to point out…
"I'm not very cool. I'm not the coolest human being. I wish I was, but I'm not. And I don't pretend to be cool. But playing James Bond, you have to be cool, and what the hell is cool? You could write a dissertation on it!"
Many probably have tried. And I'm sure that Daniel Craig is downplaying his coolness, in his British, self-effacing way. But he's not telling a joke. But as Craig will quickly tell you, he's not funny. The Bond movies have gotten funnier. Bu they aren't driven by jokes, because Craig can't do that. He explains:
"Look at people like Seth Rogen and people who make those movies. A lot of that is improvisation. They're funny people, and I'm not used to doing that sort of thing."
And he hasn't gotten used to doing that sort of thing, even though Skyfall really increased the subtle humor that once was a signature of the franchise. Craig credits Sam Mendes for the addition of light humor. And he knows that we all chuckled at Quantum of Solace, but for different reasons.
On The Future Of Bond
Here's where Daniel Craig really unleashed. Apparently, one of the last things you should ask Craig about right after he has wrapped work on one James Bond movie is when he's going to do another Bond movie. When Time Out asked if he'd be willing to dive right into the next Bond movie, Craig responded:
"I'd rather break this glass and slash my wrists."
Tell us how you really feel, Mr. Craig! In case it wasn't crystal clear what could possibly motivate Craig to come back and make Bond 25, he clarified:
"If I did another Bond movie, it would only be for the money."
OK. Well, the conversation finally floated around to who might eventually replace Daniel Craig in the role of 007, as his time in the Aston Martin likely will be limited. But Craig doesn't have too many ideas about who could succeed him, stating:
"Look, I don't give a fuck. Good luck to them! All I care about is that if I stop doing these things we've left it in a good place and people pick it up and make it better. Make it better, that's all."
But really, if the next James Bond actor (or actress) called Craig and asked them for advice on how to nail the role, what would he tell that person?
"Don't be shit!"
Exactly. Daniel Craig will work really hard to not be shit in Spectre, which opens in theaters on November 6.
Sean O'Connell is a journalist and CinemaBlend's Managing Editor. He's frequently found on Twitter at @Sean_OConnell. ReelBlend cohost. A movie junkie who's Infatuated with comic-book films. Helped get the Snyder Cut released, then wrote a book about it.
Your Daily Blend of Entertainment News
Thank you for signing up to CinemaBlend. You will receive a verification email shortly.
There was a problem. Please refresh the page and try again.