10 Incredible Movies You Might Have Missed In 2014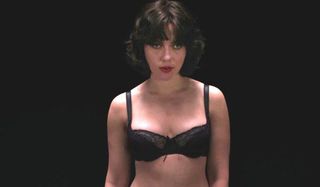 How many films did you manage to see this year? Are you over 100? Did you somehow manage to sneak past 200? That'd be beyond impressive. Yet, even if you strapped yourself to a theater chair and propped your eyes open, Clockwork Orange-style, the odds remain that there are a handful of titles that flew under your radar.
That's where we'd love to help. While editors are busy compiling Top 10 lists brimming with this year's "Usual Suspects" (hello, Boyhood, Selma and Birdman), we wanted to put together a list of 10 tremendous movies that you might have missed. It's likely that you heard something about these films, but they either didn't make it to a theater near you, or you failed to catch it on the week or two that it screened. No worries. Go through this feature, add the films you missed to your To-Do list, and start 2015 off on a strong foot… by screening the greatest underseen gems from 2014!
Under the Skin
Initially known as "the movie where Scarlett Johansson gets naked," Under the Skin started winning much different praise once audiences got a look at Jonathan Glazer's trippy exhibit. ScarJo plays an alien – for real – who traipses around Scotland luring unsuspecting men into her disturbing van so she can "feed" them to the mysterious force that possibly gives her life? I'm not really sure if that's accurate, but it's a blast watching Johansson act like the bait for a bizarro bit of social commentary. Glazer's movie has a chilling tone, with fantastic use of audio and video gimmicks. And yes, Scarlett Johansson gets naked. So there's that.
The Raid 2
The great myth about The Raid and its sequel is that they are huge hits. They aren't. Film geeks gush about the action and stunt choreography of Gareth Evans' two Jakarta adventures – both structured around the indestructible fighting machine Rama (Iko Uwais). But the Raid films, at the moment, are cult classics that do amazingly well on the film festival circuit, then die on the vine in theatrical release. (The Raid 2 barely grossed more than $2.5M in the U.S.) No matter. Rent Evans' bone-crunching sequel to his adrenaline-pumping original film. Make it a double-feature if you haven't seen either… because trust me, you haven't seen anything like these two films.
Locke
One man drives around in his car for an entire movie, talking on his telephone. That, in a nutshell, is Locke. But because writer-director Steven Knight casts Tom Hardy as the person behind the wheel, we're already compelled to see where Locke is going. The experiment always works, with Hardy's Locke juggling a number of interesting problems on this particular night. Revealing what his obstacles are would take away half of the fun of this taut, tight little character study. As Hardy prepares to set the screen on fire in Mad Max Fury Road, Locke will remind you that the actor doesn't need special effects to be electric in a performance.
Nightcrawler
The recent attention Jake Gyllenhaal has received for his performance in Dan Gilroy's enthralling late-night drama has brought some much-needed publicity to Nightcrawler, which has translated to increased eyeballs. That's a good thing – and an Oscar nomination for Gyllenhaal would be even better. Because Gilroy's directorial debut takes us deep inside a shady community rarely (if ever) showcased on the silver screen. The nightcrawlers troll police frequencies to show up at horrific crime scenes in the dead of night, solely so they can videotape the atrocity and sell it to local TV news producers. Gyllenhaal is dark, demented and delicious. Rene Russo matches her young co-star step for step. This one has been compared to Scorsese's Taxi Driver, which isn't an exaggeration.
Whiplash
If you read my year-end Top 10 list, you know that Damien Chazelle's Whiplash was my favorite film. And yet, even though the movie has been in circulation since Sundance in January, it has only earned $5 million domestically. That's a damn shame, because the movie is expertly paced and fantastically pieced together. It features the always brilliant JK Simmons as a brutally sadistic orchestra instructor (in a role that's probably going to win him an Oscar). And it features one of those performances that help explain why critics gush about Miles Teller from time to time. Find this movie in your local arthouse theater. YESTERDAY!
Chef
Yet another film from my year-end Top 10 list, and yet another movie that few people really appreciated. (Maybe I needed to find more room for blockbusters on my end-of-year chart?) At least I know I'm not alone on Chef. Jon Favreau's crowd-pleaser positively slayed at SXSW, where it had its world premiere. And over the summer, we sent an actual chef to see Chef, and he called it "the best kitchen movie ever made." Rent it now and find out why!
Snowpiercer
You'd think that placing Chris Evans in any movie – let alone a futuristic, sci-fi action thriller – would be enough to pack in theaters. But Bong Joon-ho's Snowpiercer was a slow-burner this year, even with a moderate push by the Weinstein Company and strong word-of-mouth from the critical community. In a year of challenging and mature science-fiction (with a few more from that rewarding genre still to come on this list), Snowpiercer continued to push us down unexpected avenues. That, and the train on which the entire story is set remains a work of art that could be explored for days.
Love Is Strange
… and beautiful, particularly when it's expressed between two outstanding actors like John Lithgow and Alfred Molina. Kristy started beating the drum on this tender study in same-sex marriages. It took me a while to catch up with it, but the performances are so exquisite, I'm glad that I did. Not that I'm surprised that Molina and Lithgow bring a lifetime of experience to the roles of long-time lovers who are finally able to tie the knot. But when an obstacle drives a wedge between the couple, Love Is Strange elevates to a heartbreakingly real level. One of the most honest love stories you've seen in some time.
The One I Love
The less that you know about The One I Love, the better. That was the advice shared by folks as this movie was rolling out, but it worked too well. Instead of learning more about Charlie McDowell's Sundance crowd-pleaser, audiences stayed away. Well, it's safe to tread back into that "water." Here's all you need to know. Mark Duplass and Elisabeth Moss play a married couple going through a rough patch who – on the advice of their therapist (Ted Danson) – vacation at an unusual cabin. That's all. Know that, and dive in. You'll love it. I practically guaranteed it.
Edge of Tomorrow
Do you want to know why Doug Liman's blockbuster tops this list? Because not enough of you gave it a chance. During the summer months, when basically EVERYTHING rolls in the dough, the legitimately awesome Edge of Tomorrow scratched and clawed its way to the $100M mark… and that's supposed to be a victory? Unacceptable. Edge of Tomorrow is everything you want in a summer movie. It's funny, smart and exciting. But because it stars Tom Cruise, many of you stayed away. Get over it. Go rent it. It might be called Live. Die. Repeat. No matter what they are calling it, it's awesome, and you need to make sure that you check it out very, very soon.
Your Daily Blend of Entertainment News
Sean O'Connell is a journalist and CinemaBlend's Managing Editor. He's frequently found on Twitter at @Sean_OConnell. ReelBlend cohost. A movie junkie who's Infatuated with comic-book films. Helped get the Snyder Cut released, then wrote a book about it.
Your Daily Blend of Entertainment News
Thank you for signing up to CinemaBlend. You will receive a verification email shortly.
There was a problem. Please refresh the page and try again.