10 Marvel Side Characters Who May Get Way More Important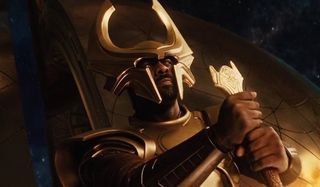 Just because a character doesn't lead their own story doesn't mean they aren't significant to the action. In the Marvel Cinematic Universe, many of the supporting allies and enemies have their own purpose, and sometimes grow more important as time goes on. Case in point, Brock Rumlow, a.k.a. Crossbones. In Captain America: The Winter Soldier, he served as the leader of the S.T.R.I.K.E. unit that was secretly working for HYDRA. Having survived his injuries, he will return in Captain America: Civil War and reportedly be the one who initiates the event that results in the Superhuman Registration Act. He's gone from a simple henchman to the man who gets the superheroes to fight one another. That's quite an accomplishment.
With Marvel's Phase Three beginning next year, it stands to reason that other MCU characters, be they old or new, will get the chance to up their game and become more prominent as the years pass. Looking to Marvel's upcoming film slate, as well as their past projects, there's a diverse selection of heroes and villains that have the potential to grow and have more of an impact on this expansive universe. Here are the side characters we think will become more important in the coming years.
J. Jonah Jameson
It's been awhile since we've seen good ol' J. Jonah Jameson on the big screen. Although the Daily Bugle's publisher was a prominent supporting character in the Sam Raimi Spider-Man films, he didn't appear in either of the Amazing Spider-Man movies, and the only sign of his existence in that universe comes from an email to Peter Parker. We still don't know what Marvel and Sony have planned for this new Spider-Man series, but it would be a waste if his curmudgeonly boss isn't included. If the new cinematic Peter Parker is going to become a photographer, he needs to have that mustachioed grump yelling in his face and calling for the Wall-Crawling menace to be stopped at all costs. Admittedly, it will be hard for any actor to top J.K. Simmons' performance, but that doesn't mean they shouldn't try.
Ulysses Klaue (Klaw)
Earlier this month, it was revealed that Andy Serkis' character Ulysses Klaue in Avengers: Age of Ultron will be a black-market arms dealer who used to deal with Tony Stark. However, if you're familiar with the hero Black Panther, you know that Klaw (as his name is usually spelled) is one of the Wakandan king's greatest enemies in the comics. Not only did the European murder T'Challa's father, but he also uses vibranium, Wakanda's greatest natural resource, for his experiments. It hasn't been mentioned whether Klaue will appear in Black Panther, but given that he is described as a "powerful new player in the Marvel Cinematic Universe," it's likely that Avengers: Age of Ultron won't be the last time we see him. Since Black Panther doesn't have a big rouges gallery, it would be a shame not to use the criminal as one of his chief antagonists.
Bucky Barnes
Now that Bucky Barnes' Winter Soldier brainwashing has been wiped away, he's beginning his path to redemption. Bucky will be one of the key characters in Captain America: Civil War, but not just because he's Captain America's best friend. It's been reported that Bucky will be the main reason for the rift between Steve Rogers and Tony Stark. This is primarily due his status as both a hero and a (former) villain, although in Tony's case, it doesn't help that Winter Soldier was the one who secretly killed his parents and framed it to look like an accident. Whatever goes down in that movie, Bucky will be at the forefront, and his involvement in the MCU won't end there since Sebastian Stan will still have six movies left on his contract. Also, depending on how Marvel decides to handle Steve Rogers in the future, there's always the possibility that Bucky could inherit the shield and become the MCU's new Captain America, like he was for several years in the comics.
Hope Van Dyne
Paul Rudd's Scott Lang may be the one wearing the costume and fighting criminals in Ant-Man, but Evangeline Lilly's Hope Van Dyne will be especially important to the film's heist. Lilly previously described Hope as an intelligent woman who is a "force to be reckoned with," and as we saw in the most recent trailer, she also teaches Scott how to fight. While we don't know what's in store for Hope following Ant-Man, don't be surprised if she shrinks on her own to become the MCU's Wasp, as many are speculating. Yes, that identity is reserved for Janet Van Dyne in the comics, but since Janet is serving as Hope's mother in the film and is seemingly out of the picture, Hope is the logical choice to wear the wings. If Ant-Man is even remotely successful, you can be sure that Hope will appear in the MCU again, whether it's a sequel or another movie, and hopefully she'll get to be a superhero as well.
Sharon Carter
Although Marvel deemed her important enough to get her own poster, we didn't see much of Sharon Carter, primarily referred to as Agent 13, in Captain America: The Winter Soldier other than seeing her keep tabs on Steve Rogers and trying to help with stopping HYDRA. Considering how important Sharon is in the comics, it's doubtful that will be her sole appearance in the MCU. The next logical place to see her would be in Captain America: Civil War, where, as a CIA agent, she could get involved in the hectic events. There's a deeper connection that could be established between her and Steve Rogers, not to mention finally stating that she's related to Peggy Carter. Even though Emily VanCamp stars on ABC's Revenge, it's likely that the contract she signed was for several movies. So while she may not be as important as certain other characters in this universe, she still has much more to offer.
Nebula
Nebula wasn't successful in helping Ronan destroy Xandar or killing her "sister" Gamora, but having escaped Guardians of the Galaxy's climactic battle, we haven't seen the last of her. Director James Gunn announced earlier this month that Nebula will return for Guardians of the Galaxy 2. While her exact role hasn't been revealed, it stands to reason she'll cross paths with Gamora again, and maybe we'll also learn what their childhood together was like. Beyond the sequel, however, there may be room to include her in other MCU adventures, specifically the Avengers: Infinity War movies. Depending on how closely those follow the original Infinity Gauntlet storyline, Nebula may try to take the Infinity Stones from her "father" Thanos to wield them herself. That would make for quite a twist, and with that power, she could prove to be even more dangerous than the Mad Titan.
Heimdall
Both Thor movies have featured the Asgardian Heimdall acting not just as the guard of the Bifrost Bridge, but as one of Thor's closest allies. Fans can see him next month in Avengers: Age of Ultron alongside Thor and Loki. Unless he is killed off during his brief appearance, we'll likely see him again in 2017's Thor: Ragnarok, Idris Elba's feelings about shooting Thor: The Dark World aside. Heimdall's all-seeing eyes would make him the prime candidate for being the first to learn that Ragnarok is coming, prompting him to warn Thor and the other Asgardians about the approaching apocalyptic event. Hopefully his next appearance will also have him in a more intricate action scene. As impressive as taking down that Dark Elf ship in The Dark World was, it would be nice to see him actually use that sword in combat against another adversary.
The Collector
Although we saw his gigantic collection and learned about the Infinity Stones from him, Taneleer Tivan, a.k.a. The Collector, is still a mystery in the MCU. It's been implied that Benicio del Toro will reprise The Collector in Guardians of the Galaxy 2, and even though his collection was destroyed, there is still plenty to do with him. In addition to being one of the oldest beings in the universe, he serves as a rival for Thanos since he is also trying to collect all the Infinity Stones, and while he lost the Power Orb, he may still have the Aether he received from Sif and Volstagg. He doesn't fit the definition of either hero or villain, but Collector's goals will almost certainly have him interacting with the Guardians again, and maybe even other MCU characters. At minimum, he's sure to piss off the Mad Titan.
Vision
Vision is an anomaly among the MCU players. Despite being played by Paul Bettany, Marvel refuses to confirm whether Vision is an upgraded version of Bettany's other character, J.A.R.V.I.S., or a brand new creation. All we know is that Ultron is responsible for his existence and he'll eventually become a good guy, just like in the comics. Whether Vision is a physical, colorful J.A.R.V.I.S. or not, Avengers: Age of Ultron will set him up as a new member of Earth's Mightiest Heroes, which means it's likely he'll pop up in the Avengers: Infinity War movies. However, a report from last week also stated that Vision will appear in Captain America: Civil War working with Tony Stark, so if that proves to be true, we could see him a year after his big debut. That android works fast.
Thanos
This entry definitely falls under the, "Well, duh!" category, but I'd be remiss if I didn't include Thanos. So far all we've seen of the power-hungry warmonger is in The Avengers mid-credits scene and a few scenes of him chewing out Ronan in Guardians of the Galaxy. All together those moment probably don't even add up to five minutes. Fortunately, all the Marvel movies are leading to the epic battle with Thanos in the Avengers: Infinity War. Plot-wise we don't know anything other than it involves the Mad Titan obtaining the six Infinity Stones to wield near-unlimited power. It's no exaggeration to say this conflict will be unlike anything we've seen in superhero movies before, and the aftermath will change the MCU forever. That's a big mantle for any character to bear, but then again, Thanos has never been anything less than grandiose, so it will be great to eventually see Josh Brolin fully portray him later this decade.
Your Daily Blend of Entertainment News
Connoisseur of Marvel, DC, Star Wars, John Wick, MonsterVerse and Doctor Who lore. He's aware he looks like Harry Potter and Clark Kent.
Your Daily Blend of Entertainment News
Thank you for signing up to CinemaBlend. You will receive a verification email shortly.
There was a problem. Please refresh the page and try again.