Thanos In Avengers: Age Of Ultron? Here's The Latest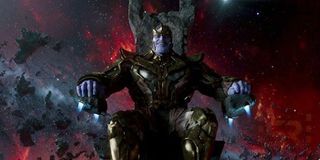 Thanos has popped up in Marvel's Cinematic Universe just twice so far – first appearing at the very end of The Avengers, and then finding a voice in Guardians Of The Galaxy – but his presence has loomed large, as fans have been teased and promised further interactions between the monstrous villain and the famous ensemble of superheroes. And with Avengers: Age Of Ultron tantalizingly close to release, the big question now is will Thanos appear in the sequel? Now it sounds as if we finally have our answer.
SPOILER WARNING: The rest of this article may contain spoilers for The Avengers: Age of Ultron. If you do not wish to know any details about the movie before having the opportunity to see it for yourself, please click away to one of our other wonderful articles.
It turns out that, as one may have expected, Thanos will have an appearance in The Avengers: Age Of Ultron. A user on the Superhero Hype, via ComicBook.com, forums got their hands on an official cast list for the rather hotly anticipated blockbuster, and in the midst of this it's noted that Josh Brolin has reprised his motion-capture performance as the villain known as The Mad Titan.
There are still a few issues regarding Thanos' appearance that remain very much up for debate, though. This includes how long he will actually appear in Avengers: Age Of Ultron. So far, Marvel fans' only interactions with the villain have consisted of his ever so brief introduction in The Avengers and a slightly longer scene from Guardians where he was on Sanctuary, his domain. Both have been slightly underwhelming, and we can only hope that Josh Brolin will be given a bit more screen-time to impose his terror and villainy in next month's release. Brolin certainly possesses the presence to do just that, and it would help to set up his next appearances in Avengers: Infinity War Parts 1 and 2, where his bad-assery is expected to be given free rein in his pursuit for all of the Infinity Stones.
Of course, while it's almost certainly true that Josh Brolin's Thanos will appear in Age Of Ultron, for the time being we should probably take this speculation with a huge dose of sodium. That's because, rather than coming from an official source it was released onto a forum by a user named HunBoy, who wrote, "In my country (Hungary) we get Age Of Ultron with Hungarian language synch. I have a list with characters. Maybe SPOILERS! I deleted synch actors." It should also be noted that the post was removed from the site not long after it went up.
We'll know whether this news is 100 percent factual when Avengers: Age Of Ultron is finally released on May 1, 2015, in the United States… which is something that I'm guessing most of you are rather excited about.
Your Daily Blend of Entertainment News
Your Daily Blend of Entertainment News
Thank you for signing up to CinemaBlend. You will receive a verification email shortly.
There was a problem. Please refresh the page and try again.