Avengers: Infinity War Will Contain More Villains Than Just Thanos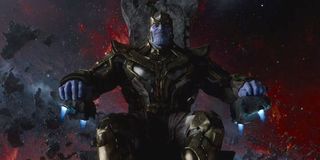 Ever since Thanos smirked at audiences midway through The Avengers credits, it's been clear that the Marvel Cinematic Universe has big plans for the Mad Titan, though his only appearance since then was a minor role in Guardians of the Galaxy. Last October, we learned that he'll get his chance to shine as the main antagonist in Avengers: Infinity War Parts I and II. His exploits on the printed page prove he's a big enough threat on his own, especially once he obtains the Infinity Stones and Gauntlet. However, he won't be alone fighting the Marvel heroes.
Vulture writer Kyle Buchanan posted an excerpt from a recent interview with Joss Whedon on Twitter. Although the Avengers: Age of Ultron director won't be helming the third and fourth installments, he is sure we'll see more bad guys than just Thanos.
Whedon's reasoning is that Marvel wouldn't stretch a story out over two movies if it only required one villain, so moviegoers will definitely get "two big movies." So while Thanos will eventually obtain the power of all six Infinity Stones, the story is big enough to require more enemies. Assuming that these other villains will be working with Thanos rather than operating separately, there are several ways we might see them appear.
One option is resurrecting the dead. In the original Infinity Gauntlet story, Nebula, who was able to steal the Infinity Gauntlet and Gems from Thanos, used the power to undo the damage Thanos had done across the universe and revive those he had killed. Maybe Thanos will use one of the Stones to bring back villains from past MCU movies, whether it's his former partner Ronan or one of the Avengers' enemies who will get a second chance at battling their respective foes. It wouldn't be the first time an MCU character has been brought back to life, and as most comic book fans know, death is rarely permanent in superhero stories.
On the other hand, perhaps Thanos will simply be accompanied by underlings in both films, serving in a similar capacity to The Other, or Gamora and Nebula before they left him. Some of the people that have aided him over the years in the comics include the Blood Brothers, Black Dwarf, and Ebony Maw, so the films may decide to adapt these characters for live-action. Hey, even a power hungry warmonger isn't expected to do everything by himself. He'll need minions to attend to matters he deems beneath him.
Thanos will unleash universal destruction when Avengers: Infinity War Part 1 is released on May 4, 2018, with Part 2 following on May 3, 2019. Both films will be directed by Anthony and Joe Russo, with screenplays written by Christopher Markus and Stephen McFeely.
Your Daily Blend of Entertainment News
Connoisseur of Marvel, DC, Star Wars, John Wick, MonsterVerse and Doctor Who lore. He's aware he looks like Harry Potter and Clark Kent.
Your Daily Blend of Entertainment News
Thank you for signing up to CinemaBlend. You will receive a verification email shortly.
There was a problem. Please refresh the page and try again.