10 Things I Hate About You: The Cast Then And Now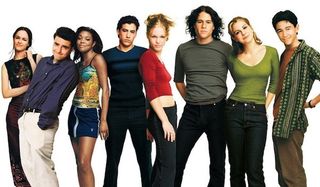 10 Things I Hate About You is a modern telling of William Shakespeare's classic The Taming of the Shrew. The 1999 film transported the Bard's tale to a modern high school in the Pacific Northwest, and while the cast contained a relatively unknown collection of young actors, many of them went on to become huge stars and have long careers following the film. As it's been more than 16 years since we first met the students of Padua High School, and we thought we'd take the opportunity to see where some of the cast members are now.
Heath Ledger
The story of Heath Ledger is probably the most well known at this point, but it still bears repeating. 10 Things I Hate About You, where he played the lead, Patrick Verona, was his first U.S. film following work in his native Australia. Technically his first American work was the FOX series Roar, though, if you blinked you likely missed the 13 episode run. Following 10 Things, Ledger would go on to star in such films as A Knight's Tale and Lords of Dogtown before being nominated for the Best Actor Oscar for Brokeback Mountain in 2006. In January of 2008 he was found dead of an accidental overdose. Shortly after his tragic passing, his role as The Joker in The Dark Knight became his most lauded performance, earning him numerous posthumous awards, including the 2009 Academy Award for Best Actor.
Julia Stiles
Stiles got her acting start during a multipart story arc on the PBS series Ghostwriter. She followed that with a series of TV guest appearances and smaller films that led her to the role of Kat Stratford in 10 Things I Hate About You. From there she has starred in popular films like Save the Last Dance and The Prince and Me. She is probably best known currently in the role of CIA agent Nicky Parsons in the Jason Bourne film franchise, and she is currently filming the latest entry in that popular series.
Joseph Gordon-Levitt
While no older than anybody else in the cast, Joseph Gordon-Levitt had more acting experience than nearly anybody else since he'd been performing on screen since he was seven-years-old. He was also one of the most recognizable faces as his television series, 3rd Rock From the Sun, began its run in 1996. 2009 was the year the actor would begin to break out as he starred in the cult classic (500) Days of Summer, which he followed with Christopher Nolan's mind-bending Inception the next year. Most recently Gordon-Levitt starred as the man who tightrope walked between the World Trade Center Towers in Robert Zemeckis' The Walk, and he co-stars with Anthony Mackie and Seth Rogen in the Christmas Comedy The Night Before later this month.
Larisa Oleynik
Bianca Stratford is the younger sister of Kat, and she wants nothing more in the world than to go on a date. Larisa Oleynik is another child actor for whom 10 Things I Hate About You was just another day on the job. She had spent the previous four years playing the lead role on Nickelodeon's The Secret World of Alex Mack, and she was already performing opposite of Joseph Gordon-Levitt's character on 3rd Rock From the Sun, so her part here must have been old hat by the time the movie came around. In her most recent major role, however, you likely didn't recognize her at all, as she had a recurring role on Mad Men as Cynthia, the wife of Ken Cosgrove.
David Krumholtz
David Krumholtz plays Michael, Cameron's (Gordon-Levitt) best and only friend friend, who is probably best remembered for having phallic artwork drawn on his face by Joey Donner (Andrew Keegan). Krumholtz was a mainstay of the TV guest spot circuit until 2005 when he took the lead role as math genius Dr. Charlie Eppes on the CBS series Numbers. Krumholtz currently looks nothing like himself playing everybody's Jewish grandmother on IFC's new series Gigi Does it.
Andrew Keegan
Every high school comedy needs its asshole, and for 10 Things I Hate About You that was high school student/commercial model Joey Donner, played to perfection by Andrew Keegan. Keegan followed 10 Things by co-starring in another modern Shakespeare adaptation with Julia Stiles, 2001's O, a high school retelling of Othello that was significantly more somber in tone than his previous dalliance with the Bard. Today, the actor splits his time between acting and running Full Circle Venice, an "open source spiritual community center" in southern California. He also just announced that his girlfriend, Arista Ilona, is pregnant with their first child.
Gabrielle Union
If there was anybody at Padua High more superficial than Bianca Stratford, it was her best friend Chastity, played by Gabrielle Union. After her 1999 teenage comedy double bill of 10 Things I Hate About You and She's All That, Union has gone on to a variety of TV and movie roles, including opposite Will Smith and Martin Lawrence in Bad Boys 2. Her most recent successes include 2012's Think Like a Man and its sequel. Union can currently be seen on the BET series Being Mary Jane.
Larry Miller
Larry Miller had already been a successful standup and film comedian and actor for years before taking on the role of the Stratford daughters overprotective father. Some of his highlights include the snobby stylist Paolo in Anne Hathaway's Princess Diaries films and as the rarely seen partner Edwin Poole on David E. Kelly's Boston Legal, but he has a long, distinguished resume. He was also the only actor to reprise his role for the short lived 10 Things I Hate About You television. Most recently he can be seen in Adam Carolla's directorial debut Road Hard.
Daryl Mitchell
Darryl Mitchell began his career with 80's hip-hop group Grove B. Chill. As "Chill" Mitchell, his acting career began with Kid N' Play's first House Party movie. In 10 Things he plays Mr. Morgan, the English teacher who took little shit from his students. Unfortunately, in 2001, following the filming of Disney's The Country Bears Mitchell was in a motorcycle accident that left him paralyzed from the waist down. That has not slowed down his acting career, however, as he continues to do a number of film in TV roles and is currently a series regular on NCIS: New Orleans (opens in new tab).
Allison Janney
1999 was the year that everybody learned who Allison Janney was. Whether you saw her in the comedic 10 Things I Hate About You, her dramatic role as White House Press Secretary C.J. Cregg on The West Wing, or remember her mostly silent yet unforgettable role in the Oscar-winning American Beauty, it all happened in 1999. She's gone on to deliver memorable work like the voice of Peach the starfish in Finding Nemo and the mother of a pregnant Ellen Page in Juno. She currently plays the lead on CBS' sitcom Mom, and she has a role in Tim Burton's next film Miss Peregrine's Home for Peculiar Children.
Content Producer/Theme Park Beat
CinemaBlend's resident theme park junkie and amateur Disney historian. Armchair Imagineer. Epcot Stan. Future Club 33 Member.
Your Daily Blend of Entertainment News
Thank you for signing up to CinemaBlend. You will receive a verification email shortly.
There was a problem. Please refresh the page and try again.