Princess Diaries 3 Is Happening, Get The Details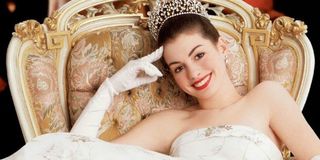 This is not a ruse. This is, hopefully, not some false information purposefully released by some enemy of Genovia. A new report states that Disney is moving ahead with Princess Diaries 3, now nearly 11 years after the second installment hit theaters. It's like that elusive Legally Blonde 3 idea, except there's more concrete information around this one.
Anne Hathaway headlined the first two Princess Diaries movies, based on the books by author Meg Cabot. According to The Tracking Board, the Oscar winner may or may not return to the fold. It seems hard to believe Disney would make a Princess Diaries 3 without Hathaway, the woman who made the franchise a global sensation, but the report also states that it doesn't really need her. The intention for the third installment is to essentially reboot the franchise with a new leading lady. How this would all work is still unknown, as plot details are being kept firmly under wraps. However, Debra Chase is reportedly returning to produce, along with Charles Pugliese, Kristin Burr and Foster Driver.
Though this information is already setting the Internet ablaze, we must consider the source. The Tracking Board has a 50/50 success rate with scoops. Sure, they've dropped some juicy ones in the past, but these are also the same peeps who implied Ryan Gosling would be the prince in the live-action Beauty and the Beast and that Tina Fey was working on Hocus Pocus 2. Until we can get more information, let's take this report with a grain of salt.
The first Princess Diaries told the story of a shy San Francisco teenager named Mia Thermopolis. She goes from drab to fab when she discovers that she's a princess and the heir to the crown of a small country of Genovia. With the help of her grandmother, Queen Clarisse Renaldi (played by Julie Andrews), she was groomed and trained in the art of sophistication to become a royal. The second film, subtitled The Royal Engagement, was all about how Mia would lose the crown if she weren't married within the month. It ended with her giving Parliament a piece of her mind and changing the law, though she did share a kiss with Lord Nicholas Devereaux (Chris Pine).
Back in 2012, Access Hollywood asked Andrews about whether Disney would make Princess Diaries 3. The actress said she only expected the two "because of Annie," though she wouldn't say no because "Disney is so wonderfully clever and inventive." Worth noting is that there's another Princess Diaries book out there, which sees Mia discovering she has a half-sister. The plan is then to spin this character off with her own book series. However, it's unclear if Disney will be taking any inspiration from this plot.
Your Daily Blend of Entertainment News