10 Things I Learned About Joss Whedon At Comic-Con 2015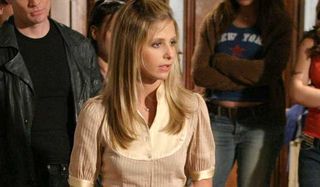 San Diego Comic-Con is a great place to see some amazing footage from some of the biggest films coming out in the next year, but easily one of the greatest highlights of the annual event is the Dark Horse Comics-presented Joss Whedon panel. Instead of having a moderator guiding a discussion, the filmmaker instead just stands on stage and has people line up to ask questions about his work, life, and anything they want to know. And because the guy is a genius, the results of the session are always fascinating. This year was no different.
This year's Joss Whedon panel was held in Hall H instead of its usual home in the smaller Ballroom 20, but the content of the show was no less captivating and fun. So what did the great filmmaker reveal this year? Read on to find out!
He's Currently Working On A New Comic
During the panel, Joss Whedon noted that he wasn't ready to announce what he would be working on as his next film or television project, but he did reveal a little project that he has been working on outside the filmmaking realm. He has decided to once again return to the world of comics by making a new six-issue series called Twist. As described by the writer/director, the premise of the series is "dealing with the most important moral question facing us, which is 'Why isn't there a Victorian female Batman?'"
He's Learned To Continue To Earn What You Already Have
Joss Whedon used to be best known for making television shows that either got cancelled, or were always on the bubble – but the last few years have completely changed his reputation. Both The Avengers and The Avengers: Age of Ultron were absolutely monster hits, and the filmmaker's profile in Hollywood has been extremely elevated as a result. This kind of success could easily change a worse person, but what Whedon has taken away from the experience is the need to "continue to earn what you already have." He knows that he's a writer basically pretending to be a rock star, but wants to continue to give his fans what his fans keep giving him.
His Approach Towards Creating Strong Yet Vulnerable Female Characters
It's no secret that Joss Whedon is great at writing female characters. He's openly acknowledged that his views as a feminist strongly influence all of his work, and as a result pop culture has been gifted characters like Buffy, Willow, Zoe, Inara, Kaylee, River, Cordelia, Fred, Echo and more. Given how much success he's had, you'd think that he'd have some very complex method towards crafting these great characters, but it's really quite simple. As he explained, what it's really about is listening to his actresses, determining "how they're best at voicing and conveying what needs to be conveyed," and then crafting the voice to be organic to the performer.
Buffy Will Always Be His Favorite Character
As is common with events driven by fan questions, Joss Whedon was tossed a lot of simple-yet-complex queries during his 45 minutes on stage, and one perfect example came when he was asked about the character he's created that he can call his favorite. At first he struggled with finding an answer - saying that his opinion changes daily and will never stop changing – but then he realized that there really is only one answer. Said, Whedon, "How could I not say Buffy? She is the distilled essence of everything that I'm not, and what I want to be and become."
He Thinks Expanding The Firefly Crew In Unnecessary
As per usual, the Joss Whedon presentation was peppered with questions about the crew aboard Serenity, one fan in particular wondered if the filmmaker would considering expanding the Firefly crew should he ever get the opportunity to return to that world. Whedon started his answer by saying that we sadly don't live in a perfect world (he'd have a flying car and a better nose if it were), but said that the show really was a blessing when it came to its abundance of interesting characters. He added, "Those nine people on the ship, I don't need anything else." Obviously that crew count is a pre-Serenity number, but the point holds firm.
Dr. Horrible 2 Is Still Not Coming Any Time Soon
When I first covered the Joss Whedon Comic-Con panel in 2012, the headlining news was that he was teaming up with his brothers Jed and Zack as well as Maurissa Tancharoen to plan and develop a sequel to the 2008 web series Dr. Horrible's Sing-Along-Blog. Unfortunately, 2013 saw the writer/director forced to announce that plans were put on pause – and things haven't really changed in the two years since. He noted that while he is now unemployed, Jed and Maurissa are busy running things over at Agents of S.H.I.E.L.D., and that Zack is currently busy directing his first film. They simply don't have time for it right now.
The Most Important Aspect Of Censoring Your Own Work
Simply as a consequence of working on network television and PG-13 movies, Joss Whedon admitted that censoring himself is part of the process in being a screenwriter, but that that kind of material is still some of the trickiest to work around while putting together a script – saying that what you can't get away with fills up half of your time. In this realm, however, Whedon noted that the most important thing is to never let a good idea go to waste at the expense of censorship. Also, every so often you get away with something – like Loki's harsh "mewling quim" line in The Avengers.
He Knows He Should Have More Racial Awareness In His Work
As important as Joss Whedon's work has been when it comes to creating the aforementioned strong-yet-vulnerable female characters, one area of his work that has drawn criticism is the lack of diversity in his casts when it comes to race. From Buffy to Firefly, to even The Avengers, his work has primarily featured ensembles of predominately white actors. This came up during the panel when a fan asked if he would consider including more Hispanic characters in his work. Whedon acknowledged that he has "been knocked a few times with my record in terms of race" – and his reaction to those criticisms is "good call." He says his focus has always been gender, but that he acknowledges that the world is more diverse than what he's expanded on.
If He Could, He'd Explain Discipline To His Younger Self
Buffy The Vampire Slayer will be celebrating its 20th year of existence in 2016, and the reality is that Joss Whedon has come a long way since creating that legendary show. So what advice would he give his younger self if given the opportunity? (as one fan asked). Well, first the filmmaker admitted that he thinks that too much time is wasted on regret, and that he's "not big" on it, but then admitted that he would probably stress the importance of discipline. He said that in early seasons of Buffy The Vampire Slayer he would stay up all night and "destroy" crew members because of a certain "misunderstanding of how things work."
He Knows The Meaning Of Life
Through his work, Joss Whedon has demonstrated a certain deep understanding of how humanity works, and has used that understanding to make his audience feel the great highs of pure joy, as well as unadulterated emotional devastation. This fact compelled one panel attendee to ask Whedon about his thoughts on why we are here – and it was a question that the director was happy to answer. Essentially, the key to getting through what he describes as a world that is a "random and meaningless, terrifying place," is that each of us is a storyteller telling our own story. This is constructed through our memories, and edited through what we forget, and what we distort. We're all building our own narrative from the very moment we enter life, and it's the truth that ultimately binds everyone on Earth together. "That's how we live peacefully and together," Whedon explained. "We understand our story, and everyone's story. The story is controlled by us, but surprising and horrifying. You're all the hero of the story."
Your Daily Blend of Entertainment News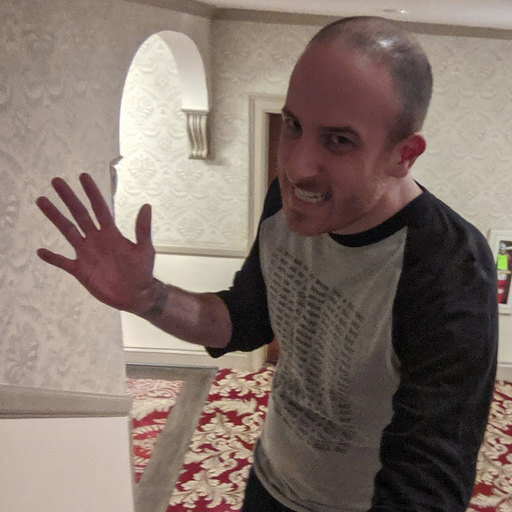 Assistant Managing Editor
NJ native who calls LA home and lives in a Dreamatorium. A decade-plus CinemaBlend veteran who is endlessly enthusiastic about the career he's dreamt of since seventh grade.