12 Days Of Christmas: The Nightmare Before Christmas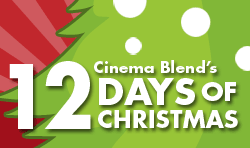 It's time to celebrate the Christmas/ Chanukah/ Kwanza/ Festivus Holiday season, so here at Cinema Blend we're enjoying Twelve Days of Christmas. Yes, we know traditionally the "12 days" start with Christmas, but we plan on being celebrated out by that time, so we're pushing the twelve days leading up to the holiday.
Here at Cinema Blend, we're celebrating by revisiting some of our favorite holiday movies. These aren't the 12 best movies out there by any means, just twelve of our favorites. Some of them you might enjoy like we do. Others you might want to check out for the first time.
On the eighth day of Christmas, my true love gave to me…
Christmas under siege by Halloweentown
I've always struggled with where exactly to place Tim Burton's The Nightmare Before Christmas. Is it a Halloween movie with Christmas elements or a Christmas movie with Halloween? Is it best to watch it in October or December? After a decade of indecision, I've finally come to the conclusion that I should watch it for both holidays and enjoy the movie regardless of the season.
Sure, Nightmare is a little dark and spooky, (it is from the mind of Tim Burton after all) but it's also a good holiday picture. The naughty are defeated (no presents for them) while the good are rewarded. Jack Skellington discovers that he needs to be true to himself, and leave the joy of Christmas as something to be celebrated and not something he has to possess completely – a good message to remember as we shop stores in an attempt to create that perfect holiday for each of our own loved ones.
That classic holiday moment… Jack discovers the true meaning of both holidays, without the message feeling overly preachy.
Read all of Cinema Blend's 12 Days of Christmas features in other sections by clicking here.
Your Daily Blend of Entertainment News