5 Great Movies That Bill Murray Missed Out On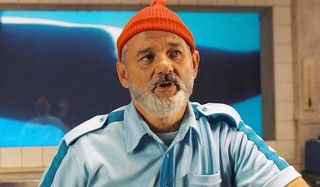 ill Murray has become somewhat notorious for never picking up the phone… literally. Years ago, the legendary star decided to replace his agent with a 1-800 number and a rarely-checked answering machine, and as a result he really only ever takes on projects that spark his interest in a big way. Being super selective is obviously a nice change of pace in Hollywood, but the unfortunate side effect is that he's missed out on being in some amazing films over the course of his career.
The Washington Post has dug through author Robert Schnakenberg's new tome "The Big Bad Book Of Bill Murray: A Critical Appreciation Of The World's Finest Actor," and has culled together a list of the various big titles that Murray has missed out on in the last few decades. It's a surprisingly substantial record, and while you can see all of the titles there, we've plucked out five movies that we're actually upset didn't feature the great Bill Murray.
Iron Man
We continue to hold out hope that Bill Murray will someday find his way into the Marvel Cinematic Universe – even if it's just in a cameo capacity – but that hasn't come together just yet. What you may not know, however, is that Murray almost had the opportunity to star in the film that kicked it all off – Jon Favreau's Iron Man. According to the book, star Robert Downey Jr. and others behind the production tried to reach out to the Groundhog Day star, but "nobody could find him." There's sadly no information regarding what role they wanted him for, but a part of me wonders if he was a possible choice for Obadiah Stane a.k.a. Iron Monger before Jeff Bridges got the part.
Bad Santa
Now that Terry Zwigoff's Bad Santa exists in pop culture and has become a holiday tradition in some households, it's hard to imagine anyone as felonious drunk Willie T. Stokes other than Billy Bob Thornton – but the world came very close to seeing Bill Murray's version of the loutish protagonist. According to Robert Schnakenberg, Zwigoff believed he had a verbal agreement with Murray to have him star in Bad Santa, but that he completely disappeared when the time arrived to make the whole thing official. The director left multiple messages on the star's answering machine, but gave up after a few weeks and brought Thornton on-board. It's true that Thornton hardly feels like a second choice, but we still can't help but imagine what could have been.
Bottle Rocket
In case it isn't entirely clear yet, Bill Murray is a hard man to get a hold of, but he is seemingly always happy to get calls from Wes Anderson. The two men first had the opportunity to work together on 1998's Rushmore, and they have collaborated on ever feature the filmmaker has made since. This means that the only title on Anderson's filmography that doesn't include Murray is 1996's Bottle Rocket - but what's funny is that the director did reach out to him about the project. Sadly, the actor didn't get the message in time, as he was busy traveling across the country in a Winnebago. That's certainly unfortunate, but we're all still thankful that the two of them still eventually found their way to each other.
Airplane!
You'll notice that most of the movies on this list were productions that were simply unable to get a hold of Bill Murray, but that isn't the case for David Zucker, Jim Abrahams, and Jerry Zucker's Airplane!. Instead, this is an example of a script that Murray actually read, but turned down. According to Robert Schnakenberg, the star was offered the part of Ted Striker – a role that eventually went to Robert Hays – but was quoted saying about the movie, "This is gonna work, but it's not." That's a very ambiguous statement, but from one angle Murray has been proven entirely wrong, as the movie is considered one of the great 20th century comedies. Could it have been better if it starred Bill Murray? It's hard to ever say "no" to that question.
Who Framed Roger Rabbit
Bill Murray probably has mixed feelings about all of the titles mentioned here (not to mention all the rest in Robert Schnakenberg's book) but it's worth mentioning that Robert Zemeckis' Who Framed Roger Rabbit is one project that Murray legitimately regrets missing out on, according to the author. Like so many other cases, the production simply couldn't manage to get in contact with the actor, and had to move on to other options. One could imagine Murray doing great things as toon-hating detective Eddie Valiant, but I personally would have loved to see his version of Christopher Lloyd's Judge Doom. I'm not sure anyone would have been interested in his version of Jessica Rabbit, though.
Head over to The Washington Post to see the full list of movies on which Bill Murray missed out!
NJ native who calls LA home; lives in a Dreamatorium. A decade-plus CinemaBlend veteran; endlessly enthusiastic about the career he's dreamt of since seventh grade.
Your Daily Blend of Entertainment News
Thank you for signing up to CinemaBlend. You will receive a verification email shortly.
There was a problem. Please refresh the page and try again.