50 Cent To Play College Football Player In Things Fall Apart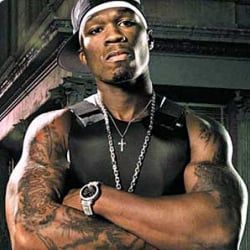 50 Cent's acting career thus far has largely relied on roles that closely mirror his actual life-- a thinly veiled self-portrait in Get Rich or Die Tryin', a thuggish drug dealer in the Sundance laugh-out-loud melodrama Twelve, and, er, a thuggish drug dealer in Righteous Kill. I'm not saying 50 isn't capable of more-- anyone see him as a soldier in Home of the Brave-- but maybe he just hasn't gotten the right role yet.
Well, how about playing a running back college senior? At age 34? Yeah, that sounds like a pretty good stretch. Variety reports that 50 Cent will star for director Mario Van Peebles in Things Fall Apart, which is not an adaptation of the Chinua Achebe book, but a story about a football player "who faces a personal tragedy as well as his own mortality while in his senior year in college." Production begins in May in Michigan.
I have absolutely no idea why Van Peebles sees 50 Cent as the guy to play a college senior, but more power to the both of them if they can pull it off. He's not the gigantic pop culture figure now that he was when Get Rich or Die Tryin' came out, so maybe a little less of the spotlight could help him expand his acting skills?
Your Daily Blend of Entertainment News
Staff Writer at CinemaBlend