6 Star Wars Expanded Universe Characters Who Should Be Added To The Canon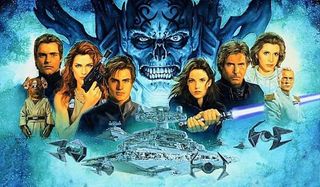 For more than two decades, Star Wars further explored that famous galaxy far, far away outside of the movies through the Expanded Universe, a.k.a. the EU. Then, after Disney bought Lucasfilm, it was announced that aside from the six live-action movies and the Clone Wars animated series, every book, comic, video game, and other kind of media was no longer canon. Lucasfilm now has a division that makes sure every non-movie story lines up with the new canon, and the pre-2014 material, whether it's from before the Prequel Trilogy or after Return of the Jedi, now falls under the "Legends" banner. Fortunately, there may still be some opportunities to bring back some of these EU players back into the main Star Wars universe, as it's been said they can be mined for content.
A few weeks ago, it was rumored that Grand Admiral Thrawn, arguably the EU's greatest antagonist, will make his official canon debut in the Disney XD series Star Wars Rebels. While that has yet to be confirmed, it does open the possibility of reintroducing these EU characters into the main canon. Obviously all these people would need adjustments in order to not only fit the new timeline, but whatever projects they appear in, they'd be great additions from the old continuity. Let the following folks live on in this brave new Star Wars world.
Mara Jade
Depending on who you ask, Mara Jade is the most well known character in the Expanded Universe. Introduced in Heir to the Empire (the same book where Thrawn debuted), Mara originally served as the Emperor's Hand, one of his best special agents. After the Battle of Endor, when she came across Luke Skyalker, she tried to kill him both out of loyalty to the Emperor and because of a mental command he left her before he died. Luke was able to help her break free of this control, and, while helping her hone her Force abilities in later books, they fell in love and eventually married. She was later killed by her nephew, Jacen Solo, in the "Legacy of the Force" book Sacrifice.
Because so much time has passed between Return of the Jedi and The Force Awakens, we wouldn't be able to see Luke and Mara have the same kind of relationship. Plus, Luke will already be busy training Rey in Episode VIII, so adding another pupil would be overkill. That leaves two options movie-wise: either keep her as one of the Emperor's operatives in one of the prequel spinoffs, or have her as one of Luke's apprentices who managed to avoid being killed by the Knights of Ren.
Talon Karrde
When Mara Jade was on the run following Return of the Jedi, she became a smuggler and served under Talon Karrde. For decades Karrde's organization was not only one of the best at smuggling, but also at providing information to any interested (and paying) parties. During the Thrawn trilogy, Karrde joined forces with the New Republic after Thrawn put a bounty on his head, and while some of the New Republic leaders never fully trusted him, he became a valued ally to favorites like Luke Skywalker and Lando Calrissian.
Since Karrde's main claim to fame are his smuggling adventures, it would be best if the new movies overlooked his government assistance and kept him purely as a lovable rogue. This means that he'd feel more at home away from the sequel trilogy and in one of the spinoffs. Assuming he isn't in Rogue One, that leaves the Han Solo prequel the next best option. If the young Han finds himself in a spot of trouble (and you can bet he will), Karrde can not only get him out of it, but also mentor him in the ways of smuggling, thus setting him on his life's path towards A New Hope. If the Lucasfilm folks feel that TV is a better fit for Karrde, then have him be someone that the Ghost crew runs into in Star Wars Rebels.
Prince Xizor
Introduced in 1996's Shadows of the Empire, set between The Empire Strikes Back and Return of the Jedi, Prince Vizor was the head of the Black Sun criminal organization. His vast influence already made him a force to be reckoned with, but he also tried to replace Darth Vader as the Emperor's most trusted subordinate, both to gain more prestige and as revenge against Vader for killing his family. He never succeeded with this goal, but he in the brief time readers spent time with him, his cultured demeanor combined with his cold blooded attitude made him a different kind of threat.
Since the First Order looks to be the main antagonists in the new trilogy, the only way Xizor could fit in would be as a tertiary villain, and he deserves more than that. It would be better if he was a criminal figure that was introduced in one of the spinoffs. If that Boba Fett movie is legit, perhaps Xizor could serve as the target Boba is sent to hunt or steal from. On the other hand, it might be better if he was included as a major villain in Star Wars Rebels. With the protagonists always getting into trouble in the seedier corners of the galaxy, eventually they'd run into him, and he would certainly do well as a recurring antagonist in a future season.
Dash Rendar
Like Prince Xizor, Dash Rendar debuted in Shadows of the Empire. With Han Solo frozen in carbonite and hanging in Jabba's palace, Dash took his spot as the smuggler who swooped in to help out the Rebellion. After participating in the Battle of Hoth for the Rebels, Dash was hired by Lando Calrissian to track down Han's whereabouts. Despite that mission being unsuccessful, Render later looked after Luke following an assassination attempt, and he also helped the Bothans secure the second Death Star plans. Render was a skilled pilot aboard his ship the Outrider, which was kept in good condition by his droid partner Leebo.
Unless Lucasfilm decides they want to adapt Shadows of the Empire for one of the spinoffs, then there's no way that Rendar can play the same role he did in the EU. Also, with Han Solo dead (we're still shedding the occasional tear) Oscar Isaac's Poe Dameron looks like he'll be taking over the lovable "rogue" in the new trilogy. So, like with many others on this list, that leaves Render to one of the spinoff prequels or TV shows set before A New Hope. While the Empire is causing havoc across the galaxy, Dash could somehow end up working with the main protagonist(s) of that respective project, for a price, of course. Whatever project Dash appears in, it would need to be the same one as Xizor, as those two have history together.
Natasi Daala
During the Jedi Academy book trilogy, Natasi Daala succeeded Thrawn as the primary Empire villain in the EU. Discovered by Grand Moff Tarkin serving in the Imperial Navy, she quickly rose through the ranks and eventually promoted to Admiral. Years after Tarkin's death, Daala finally tried to seek vengeance for him (it's worth pointing out they were also lovers) by unleashing the Sun Crusher. Unfortunately for her, the New Republic stole the super weapon from her, and when she went back to blow up the research facility where it was built, her enemies destroyed most of her fleet, though she managed to escape. She is also notable for being one of the longest-lived Imperial officers, playing a role in the Fate of the Jedi series, which took place over 40 years after A New Hope.
The Empire was an all-guys club in the original trilogy, and while The Force Awakens did have Phasma and a few other female troops, the series could definitely use more women as villains. Perhaps Daala could be Hux's second-in-command in Episode VIII and/or IX, serving in a similar capacity as Piett did for Vader in the latter half of the earlier films. It's highly unlikely she would get to command another superweapon (we really don't need any more of those), but she could still show herself to be one of the First Order's most capable officers.
Borsk Fey'lya
Other than Admiral Ackbar, the Rebellion/Resistance hasn't featured any major non-human leaders, but that could change by introducing the Bothan Borsk Fey'lya. In the Expanded Universe, Fey'lya was a politician who became one of the Rebellion's most prominent figures during the Galactic Civil War. Unlike Leia and Ackbar, Fey'lya had a selfish streak and was always trying to secure more power for himself via manipulation and strategy, though he always claimed this actions were meant to better the collective. In the EU, Fey'lya died a martyr (and some might say a hero) during the Yuuzahn Vong's invasion of Coruscant when he set off a bomb that took thousands of the malevolent aliens with him.
Fey'lya isn't a character that requires a lot of backstory, so throwing him in as one of the Resistance's senior members in Episode VIII or IX should be sufficient. After seeing plenty of idealists in the prequel and original trilogies, it would be refreshing to have someone on the "good" side to be in it more for himself than the greater good. Having Fey'lya betray the Resistance to the First Order would be going too far, but his thirst for power would provide a welcome contrast to the Resistance members who are more clear headed.
Your Daily Blend of Entertainment News
Connoisseur of Marvel, DC, Star Wars, John Wick, MonsterVerse and Doctor Who lore. He's aware he looks like Harry Potter and Clark Kent.