Adam Sandler's Hotel Transylvania 2 Just Booked A Comedy Legend, See His Character Now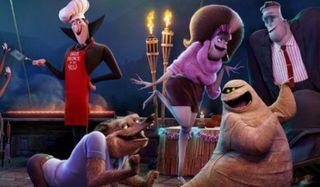 Hotel Transylvania 2 will feature the vocal talents of a comedy icon! This week, it was announced that Mel Brooks will star in the upcoming animated adventure. The legendary writer, director and actor will voice Vlad, the father of Adam Sandler's Dracula in the film. You can even check out an image of their characters below.
Mel Brooks and Adam Sandler will be joined by the vocal talent from >Hotel Transylvania, which includes Kevin James, Selena Gomez, Andy Samberg, and Steve Buscemi,. Mel Brooks even explained to USA Today that when he accepted the role he couldn't help but crack a joke to Adam Sandler.
Over the last 50 years, Mel Brooks has been involved with some of the seminal comedies of several generations, including The Producers, Blazing Saddles, Silent Movie, Spaceballs and Robin Hood: Men In Tights. However despite his stature as a Hollywood great, he admitted that he was enticed to star in the film because he wanted to work alongside Adam Sandler. That's right, the man who wrote "Springtime For Hitler" was enticed by the man who voiced Little Nicky. However Mel Brooks explained that the actor was more than just a comedic sparring partner, he also helped him to portray a variety of emotions through his vocal performance.
Mel Brooks also admitted that after working on the horror comedies Young Frankenstein and Dracula: Dead And Loving It, both of which he directed, he didn't need to perfect his accent for the undead character. In fact he admitted that his age helped him to achieve his intended voice for Vlad.
Mel Brooks just didn't saunter up to the recording studio, lay down his vocals and then depart. Oh no. The filmmaker also got involved in the character design for Vlad. Mel Brooks suggested to the animators that Vlad should be less scary and not as dark as they had originally created him. He then went on to advise them to open up Vlad's eyes in order to make them large and friendlier so that children would like him. Hotel Transylvania 2 will be released on September 25, 2015.
Your Daily Blend of Entertainment News
Thank you for signing up to CinemaBlend. You will receive a verification email shortly.
There was a problem. Please refresh the page and try again.