Amanda Seyfried Will Hunt Down Her Abductor In Gone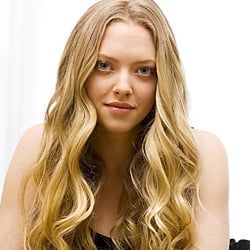 There's no lack of movie fans and critics who will insist that Amanda Seyfried is among the most talented actresses of her generation. But with that in mind, the girl picks some seriously strange projects for an up-and-coming talent. Late last year I spotted a DVD shelf with two Seyfried movies for sale right next to each other-- Chloe, the thriller in which she has graphic sex with Julianne Moore, and Dear John, the Nicholas Sparks novel adaptation in which she snuggles with Channing Tatum on the beach. See what I mean by random?
Now she's adding another inexplicable piece to the puzzle. A press release has announced that Seyfried will star in the thriller Gone, to be distributed domestically by Summit, the studio that produced her upcoming vehicle Red Riding Hood. International sales are being handled at next week's European Film Market. Seyfried will play a woman who believes her sister has been kidnapped again by a serial killer who targeted her years before. As the synopsis goes, "But the police do not believe her and Jill knows time is running out. With no one to turn to, Jill sets off to find her sister and face her abductor once and for all." Does this not sound exactly like a movie Ashley Judd or Sandra Bullock would have starred in 15 years ago?
Heitor Dhalia, who made the Brazilian films Adrift and Drained, will be making his English-language directing debut with the project. That's not always a bad sign-- plenty of directors make the leap from their native tongue to American films just fine-- but it's also hard to know now how it might turn out. Filming is set to begin in April of this year, so expect to see this film around this time in 2012.
Staff Writer at CinemaBlend
Your Daily Blend of Entertainment News
Thank you for signing up to CinemaBlend. You will receive a verification email shortly.
There was a problem. Please refresh the page and try again.