American Teen Borrows From Breakfast Club For Ads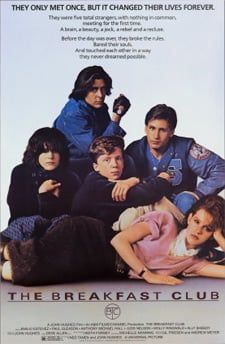 The ad campaign for American Teen is moving forward, with the poster arriving online this week (we found it at Film School Rejects). If you haven't heard about the movie, it's actually a documentary that follows a year in the life of a group of high school students in Indiana. You'd never know it by looking at the movie poster, however.
The tagline on the poster is "They were five total strangers with nothing in common, except the school they went to. A heartthrob, a princess, a jock, a rebel and a geek. Before the year was over, they broke the rules, bared their souls, and changed in ways they'd never dreamed possible." Now where have we heard that before? Oh, right: the poster for the John Hughes classic The Breakfast Club.
I've been assured that American Teen has nothing to do with The Breakfast Club and is in no way an attempt at remaking it even though the poster is a dead ringer for the classic's advertising. Apparently this is just a smart move from the producers to find a way to market a documentary to a more mainstream public, playing on the idea that the documentary explores those same character types that Hughes built his movie on. The question is whether the advertising will backfire, getting people into seats who are then disappointed with what they see as compared to the remake they thought they may have been getting. Paramount Vantage had better make sure the trailers and commercials make this its own picture, rather than just ride on The Breakfast Club's coattails. How much do you want to bet they use "Don't You (Forget About Me)" as the soundtrack anyway?
See the poster below or click over to Film School Rejects for a larger look.
Your Daily Blend of Entertainment News