Amy Poehler And Tina Fey Are Naked And Sharing A Bathtub In The Sisters Poster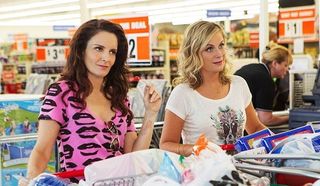 Naked bodies are a tried and true way to sell, well, just about anything, and movies are no exception. While they don't normally go in for using sex to hawk their films and shows, Tina Fey and Amy Poehler have stripped down to pump up their upcoming comedy Sisters, posing naked in a bathtub for a new poster. Take a look for yourself below.
This poster doesn't tell you much, or really anything, about the plot of Sisters, but it gives you a decent idea of what kind of humor to expect. Then again, if you're a fan of either Fey or Poehler, you can probably guess what kind of movie is coming your way, though this time it does seem to skew towards raunchier territory than the things the comedians are most known for.
Directed by Jason Moore, who helmed the first Pitch Perfect, and written by Saturday Night Live, alum Paula Pell, Sisters tells the story of two sisters (surprise), Jane Jones (Fey) and Maura Ellis (Poehler). Over the years their disparate personality types—Maura is the straight-laced perfect daughter, while Jane is the wild, free spirited party girl—have caused them to lose touch, but when their parents decide to sell their childhood home, the two are tasked with cleaning out all of their old stuff. Instead of going about this task in a timely, efficient manner, they do some reminiscing and wind up throwing a high school rager style party at their parents' house, which give all their now-grown former classmates a chance to blow off some steam old school style.
All in all, it looks like a pretty good time. Check out the trailer below.
In what is kind of a bold move, Sisters is one of two major movies opening on December 18. The other one is a little film that you may have heard of called Star Wars: The Force Awakens. While a Tina Fey and Amy Poehler joint doesn't have a hope in hell of winning the box office race—some experts have already predicted it could have the biggest opening weekend ever—this could prove to be a nice piece of counter programming. There's probably some crossover between audiences—damn near everyone wants to see The Force Awakens—but for people not in the mood for a big science fiction adventure, or those looking for a comedic injection after all the awards bait also hitting theaters around that time, Sisters might be a viable option.
Your Daily Blend of Entertainment News
Thank you for signing up to CinemaBlend. You will receive a verification email shortly.
There was a problem. Please refresh the page and try again.