Tina Fey And Amy Poehler Get Raunchy And Hilarious In Sisters Footage At CinemaCon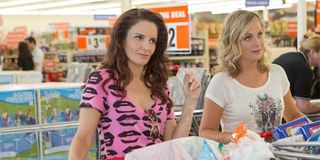 It was only a few months ago that Universal Pictures unleashed our first look at the new Tina Fey-Amy Poehler comedy Sisters, but that was merely a 20 second sneak peek. Tonight at CinemaCon the studio delivered a full blown sizzle reel for the Jason Moore-directed feature, and the movie honestly looks absolutely hilarious.
The footage wasted absolutely no time at all demonstrating the sisterly chemistry shared between Tina Fey and Amy Poehler, kicking things off with the two driving around in a suburban area when they spot a guy (Ike Barenholtz) gardening in his front yard. Attracted, they pull over to the side of the road and actually start cat-calling him, making suggestions about him doing "some work on [their] bushes." While it's Fey's character that really gets this started, it's clearly Poehler's character who is a bit more attracted to him, and after the guy responds, "I don't have to be the butt of your jokes," it doesn't take long before she makes it super awkward, suggesting that she is going to laugh in his butt – which she acknowledges as getting way too dirty way too fast.
From there, we start to get to know the two characters a bit. Poehler's character has been divorced for two years, has very little social life to speak of, and works as a nurse (a gig that unfortunately requires her to apply lotion to old men's scrotal areas). Fey's character, meanwhile, is the more outgoing sister, and she seems to have a bit of an irresponsibility streak and no job (we see her going in for an interview, but when it doesn't go so well she offers to text the potential employer a picture of her boobs, which she describes as "high and happy").
It's when the two women go to visit their parents (James Brolin, Dianne Wiest), that the plot starts to reveal itself. Their mom tells them that a decision has been made to sell their house, and the siblings need to clear all of the stuff out of their shared childhood bedroom - which is a total mess. We then see a montage of Fey and Poehler going through all of their old stuff, wearing every hair clip they can find and reading passages from their diaries. They very clearly had very different experiences as kids, as Poehler' talks about her rock tumbler, and Fey finds "very incorrect information about how to put an IUD in." They then come to the conclusion that it's unfair that Poehler never really had a fun party night in the house when they were growing up, so it's decided that they will throw one big rager before they officially have to leave the property.
From there, the sizzle reel featured many really funny interactions between the two sisters and a number of funny supporting players. This includes John Cena as a tattoo-ridden drug dealer far too intense for the women's needs (they're merely looking for something you'd smoke before a Bangles concert); Maya Rudolph as an old classmate from high school (with whom the sisters have a funny, catty conversation); and Bobby Moynihan as a cop who appears during the film's party scene to check on the ages of the partygoers (who are all obviously way older than 21). It's Ike Barenholtz and Amy Poehler who got the best final moment in the footage, however, as they are shown getting together in her bedroom at the party when a lit candle falls on his crotch. This causes him to fall to the ground, and accidentally get a ballerina music box stuck up his ass - "past the tutu."
Tina Fey and Amy Poehler are without question two of the funniest comedic actresses working today, and it's truly awesome that they are getting what looks to be a very raunchy, R-rated comedy to play in. And while Poehler stole many moments in the reel, it was especially great to see Fey play the ridiculous wild child. Sisters does have an uphill battle coming later this year, as it is set to hit theaters the same weekend as J.J. Abrams' Star Wars: The Force Awakens, but it definitely looks funny enough to still find an audience.
Your Daily Blend of Entertainment News
Assistant Managing Editor
NJ native who calls LA home and lives in a Dreamatorium. A decade-plus CinemaBlend veteran who is endlessly enthusiastic about the career he's dreamt of since seventh grade.
Your Daily Blend of Entertainment News
Thank you for signing up to CinemaBlend. You will receive a verification email shortly.
There was a problem. Please refresh the page and try again.