John Cena Joins Amy Poehler And Tina Fey's The Nest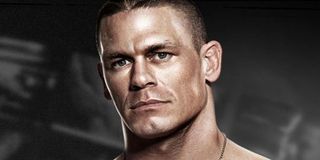 John Cena might be best known for playing the All American Hero of the WWE and WWF. But as he delves deeper into film roles, this good guy is said to be going bad. And he's doing it with two of contemporary comedy's most influential players, Amy Poehler and Tina Fey.
Deadline reports John Cena has signed on to appear in The Nest, a Universal Pictures comedy headlined by Amy Poehler and Tina Fey. In the film, penned by Saturday Night Live scribe Paula Pell and to be helmed by Pitch Perfect's Jason Moore, the two former Weekend Update co-anchors will reunite, playing a pair of sisters who decide to throw a rager of a house party in their parents' home. The inciting incident of this laffer is that the pair's parents decide to sell their house. So when the sisters are called home to clear out their things, they decide to raise some hell while they are there. Like you do.
Universal is keeping quiet on the specifics of Cena's role for now. However, Deadline has heard rumors that John Cena is set to play against the good guy persona he's been forging for over a decade, by playing a villain in The Nest.
What form that villain will take--beyond a muscle bound All-American--is unclear. But here's what we do know. Shamless's Madison Davenport will play daughter to Fey, who here is an overgrown wild child. James Brolin is set to portay the onscreen father of Poehler and Fey, while fellow Saturday Night Live alum Maya Rudolph will take on the role of the pair's childhood friend. The Mindy Project's Ike Barinholtz figures in here somewhere are well. Like Cena's, his role remains unclear. However, Barinholtz is said to have scored the film's male lead. If we assume that means he's a love interest for either Fey or Poehler, could this make Cena a bad boy ex? We'll keep you posted.
Cena has been making some impressive strides in developing a film acting career. It began with a lackluster start as an extra in the mostly forgotten wrestling comedy Ready to Rumble. But by 2006 Cena was a leading man, admittedly in a little-known action-thriller called The Marine. He followed this with 12 Rounds, a crime-thriller helmed by Die Hard 2 director Renny Harlin. Next came the wrestling drama Legendary, and a string of similarly small movies. But 2015 could be Cena's tipping point as he'll appear in not one but two hotly anticipated comedies, The Nest and Amy Schumer's Trainwreck. Just as with The Nest, his role in the Judd Apatow-helmed Trainwreck is under wraps. But this one-two casting punch suggests John Cena is killing it in comedy.
The Nest will open on December 18th, 2015.
Your Daily Blend of Entertainment News
Staff writer at CinemaBlend.
Your Daily Blend of Entertainment News
Thank you for signing up to CinemaBlend. You will receive a verification email shortly.
There was a problem. Please refresh the page and try again.