Anna Kendrick's Blunt Reaction To Guys Who Treat Pitch Perfect As A Guilty Pleasure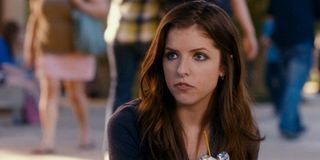 Anna Kendrick is not only currently busy promoting Pitch Perfect 2, but at the same time she is also making the world fall in love with her just that little bit more thanks to her charm, grace, potty-mouth and wit. Kendrick managed to perfectly combine these elements while talking about the original Pitch Perfect recently, and in classic Kendrick fashion she has a rather blunt response to any guy who regards the 2012 movie as a guilty pleasure.
While sitting down with Glamour, Kendrick was asked about the fact that when Pitch Perfect was originally released into cinemas, 74 percent of the audience was calculated to be women. This led Kendrick to bite back with an expletive-ridden retort while at the same time defended the film.
Despite Kendrick's insistence, you can clearly see why Pitch Perfect was devoured by female audiences to the tune of $14.8 million over its opening week. In fact, these numbers are probably the main reason why Universal decided to order a sequel to the hugely popular comedy, especially since, alongside the overwhelmingly impressive female contingent, 55 percent of its opening weekend was viewed by people under the age of 25 too.
But there really is no need for men to consider Pitch Perfect as a guilty pleasure. Yes, it's hardly packed with masculine material, but, really, that doesn't matter at all, because all you need to know about Pitch Perfect is that it is laugh-out-loud funny and that it's also layered with a sweet undercurrent of romance. Even its clichéd and predictable plot doesn't make it tiresome.
Three of the main reasons for Pitch Perfect's success come in the shape of Kendrick, her co-star Rebel Wilson, and writer Kay Cannon. Kendrick glides across the screen in Pitch Perfect emanating her perpetual warmness that you just can't help but fall in love with, even though her character is at times a cold-hearted cretin. Meanwhile, she's hilarious when called upon, and Pitch Perfect is proof that she can carry and lead her own mainstream flick. Rebel Wilson also regularly steals the spotlight as Kendrick's arrogant but flawed co-star, and Kay Cannon litters the film with the wit and charm that has been seen in her work on 30 Rock and New Girl.
We'll see if Pitch Perfect 2 is just as much as a guilty pleasure as its predecessor when it finally hits screens on May 15th.
Your Daily Blend of Entertainment News
Your Daily Blend of Entertainment News
Thank you for signing up to CinemaBlend. You will receive a verification email shortly.
There was a problem. Please refresh the page and try again.