Anna Kendrick Leads Shortlist For Captain America 2 Female Lead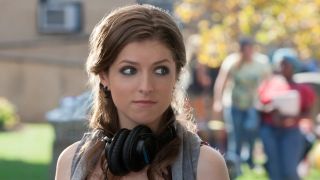 (Image credit: Universal Pictures)
Though we're all excited to see the return of Captain America in his sequel, Captain America: The Winter Soldier, the movie will be missing a lot of what made the first one so fun. As we all know thanks to The Avengers, Captain America is now living in modern times, and though his 1940s values and sense of right and wrong intact, familiar figures like his love Peggy Carter (Hayley Atwell), his mentor Howard Stark (Dominic Cooper) and his best friend Bucky Barnes (Sebastian Stan) are all long gone… or are they?
As you might have heard, the title Winter Soldier suggest Bucky will be making a comeback as a bad guy, and now they're coming up with a way to keep Peggy Carter alive, at least in spirit. The New York Post reports that Anna Kendrick, Imogen Poots and Felicity Jones currently make up the shortlist for the lead in Captain America: The Winter Soldier. Though they're not specifying the role, a quick look at the physical similarities between all three of them and Hayley Atwell-- plus the fact that Cap's love interest in the Winter Soldier arc of the comics is Sharon Carter, Peggy's niece-- makes things pretty clear.
In the comics, at least, Bucky/Winter Soldier kidnaps Sharon, which helps Cap identify the villain as his former friend. But who knows what directors Joe and Anthony Russo are planning for the story this time around, so don't count on anything just yet. Captain America: The Winter Soldier is set for release on April 4, 2014, which means the production is probably moving fast to get the cast in place. Poots and Jones ought to have an advantage from being British, as Carter is, but never rule out Kendrick, who snagged an Oscar nomination for her first major role in Up in the Air, and seems tenacious enough to tackle a natural British accent in no time. If the Post's shortlist turns out to be true, though, we should count on one of the three of them snagging the role very soon.
Your Daily Blend of Entertainment News
Staff Writer at CinemaBlend