Anne Hathaway Finds A Love Interest For Her Bizarre Giant-Creature Movie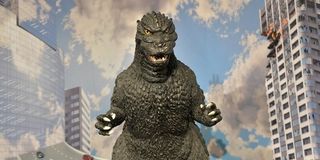 When you say things like Anne Hathaway is going to star in a giant monster movie directed by Nacho Vigalondo, you already have my undivided attention. That's as a appealing a combination of cinematic elements as I've ever heard, but they just added a male lead and love interest for Hathaway that cranks the handsomeness factor of the movie way, way up into the stratosphere.
Variety reports that Dan Stevens has signed on to star opposite Anne Hathaway in the upcoming creature feature Colossal. The 33-year-old British actors is best known for his role as Matthew Crawley on Downton Abbey, but has gradually been building his profile and showing his range in the gritty A Walk Among the Tombstones, tense horror thriller The Guest, and even Night at the Museum 3. He also plays the Beast in Disney's live-action Beauty and the Beast, a role that is sure to be a launching pad to even bigger things.
There isn't a ton known about Colossal at the moment, but the story follows a young woman, played by Hathaway, who returns to her home town after her life takes a head-first dive down the crapper in New York City. After losing both her job and her boyfriend, a giant creature appears over Seoul, wrecking up the joint, and she discovers that, low and behold, she has a strange connection to the monster and the destruction may be linked to her mental breakdown. Stevens will no play the ex who, though he originally dumps her like week old trash, fights to win back the young woman's affections.
This is going to be Nacho Vigalondo's biggest movie to date, and if you're not familiar with the Spanish director, do yourself a favor and watch a couple, they're damn fine times. He likes to play with genre conventions, usually with delightful results. Timecrimes is a twisted, horror-leaning time travel thriller, and his Extraterrestrial is a romantic comedy about an awkward one-night stand that just so happens to take place on the eve of an alien invasion. He also helmed the Elijah Wood-starring Open Windows, contributed to the ABCs of Death anthology series, and has been talking about making a throwback style giant monster movie for years. This should be a total blast.
In addition to Anne Hathaway and Dan Stevens, Colossal also stars funny man Jason Sudeikis, frequent Coen Brothers collaborator Tim Blake Nelson, and Austin Stowell, who recently showed up in Steven Spielberg's Bridge of Spies and TNT's Public Morals. All in all, this isn't a half bad cast.
Right now there is no word on when we might get to see Colossal, but it is currently filming in Vancouver, BC, and you can bet your ass that we'll be keeping a close eye on this one as it develops.
Your Daily Blend of Entertainment News
Thank you for signing up to CinemaBlend. You will receive a verification email shortly.
There was a problem. Please refresh the page and try again.